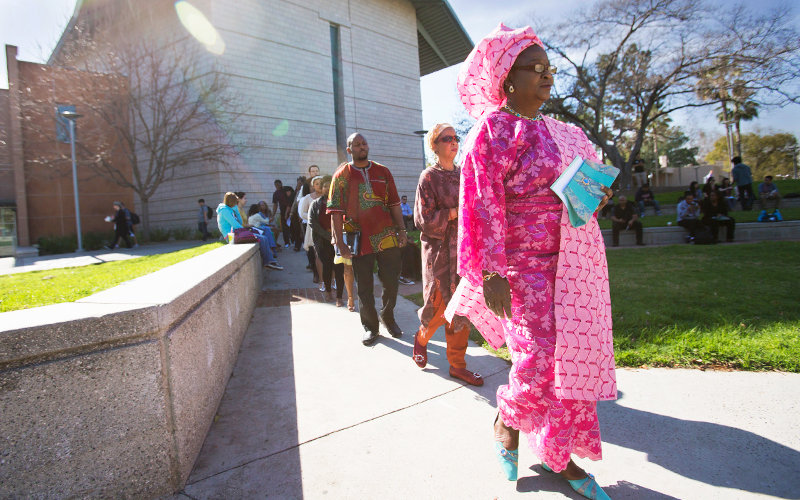 WHAT:
Exhibits, panel discussions, film screenings and presentations are planned throughout February to commemorate Black History Month at Cal State Fullerton.
The theme is "Black Power: Reclaiming Our Voice Through Resistance," said Fnann Keflezighi, coordinator at the African American Resource Center. 
Scheduled events include a screening of "Straight Outta Compton," Wednesday, Feb. 17, followed by a Q & A with a panel including Natalie Graham, assistant professor of African American studies; Gregory "Chris" Brown, associate professor of criminal justice; Torrell Foree, a graduate student; and Shakeyla Mitchell, chair of the Black Student Union.
Events are free.
WHERE:
Cal State Fullerton
800 N. State College Blvd., Fullerton, 92831
WHEN: 
Feb. 1 – 28
Among the events planned are:
Monday, Feb. 1 "African American Concert Dance Legacy: 1930s-1970s Exhibit" Opening Reception
4 p.m. Portola Pavilion, Titan Student Union
This exhibit, sponsored by the Pollak Library, features African American concert dances and choreographers from the 1930s to the 1970s as part of the social protest movements for civil rights. It illustrates through pictures, print media, costumes, videos, oral history, audio and live performances, the contributions black artists made to the cultural, political and social context of life in America.
Thursday, Feb. 4
"AARC Spotlight: Dawn Person"
(exclusive to students) Noon in Humanities-Social Sciences Building, Room 222
Dawn Person Hampton, professor of educational leadership, discusses "Access & Equity: The More Things Change the More They Stay the Same" — on concepts and systematic structures, such as equality and affirmative, and equal access opportunities through dialogue. The event is sponsored by the African American Resource Center.
Wednesday, Feb. 10
"Betty & Coretta" film screening
6 p.m. University Hall Room 205
After the assassinations of Martin Luther King Jr. (Malik Yoba) and Malcolm X (Lindsay Owen Pierre), their widows, Coretta Scott King (Angela Bassett) and Betty Shabazz (Mary J. Blige), continue to raise their children and fight for the cause. The event is sponsored by the campus club Sistertalk, the WoMen's Center and the Adult Reentry Center.
Thursday, Feb. 11
"Thrones of Black Kings"
6-10 p.m. Portola Pavilion, Titan Student Union
Members of the CSUF club Sistertalk invite the campus community to the fourth annual "Thrones of Black Kings." The semi-formal dinner and award event was created to appreciate the men of color on campus and recognize all their hard work. The keynote speaker is Tami Foy, interim director of research and development at CSUF. Reservations are required and can be completed online.
Wednesday, Feb. 17
"Straight Outta Compton" film screening with Q & A panel
5–9 p.m. Portola Pavilion, Titan Student Union
Watch and discuss the film nominated for an Academy Award for best writing, screenplay. The film documents the members of the group NWA who emerge from the streets of Compton in Los Angeles in the mid-1980s and revolutionize hip-hop culture, plus their takes on life in the 'hood. 
Six cast members were nominated for Screen Actors Guild Awards in the category of outstanding performance by a cast. The film screening is sponsored by the African American Resource Center, Black Student Union and Associated Students Inc. Productions.
Thursday, Feb. 18
President García's Black History Month Reception
5:30-7:30 p.m. Fullerton Marriott
President Mildred García and the CSUF African American Faculty & Staff Association celebrate the diversity of the campus community. A'Lelia Bundles, journalist, author and great-great-granddaughter of Madam C.J. Walker, will be the keynote speaker. The theme of this event is "Black Lives Matter: Past, Present and Future."
For more information, and a complete list of events, contact the African American Resource Center at 657-278-3230. 
Media Contact:
Cerise Valenzuela Metzger, 657-278-3708