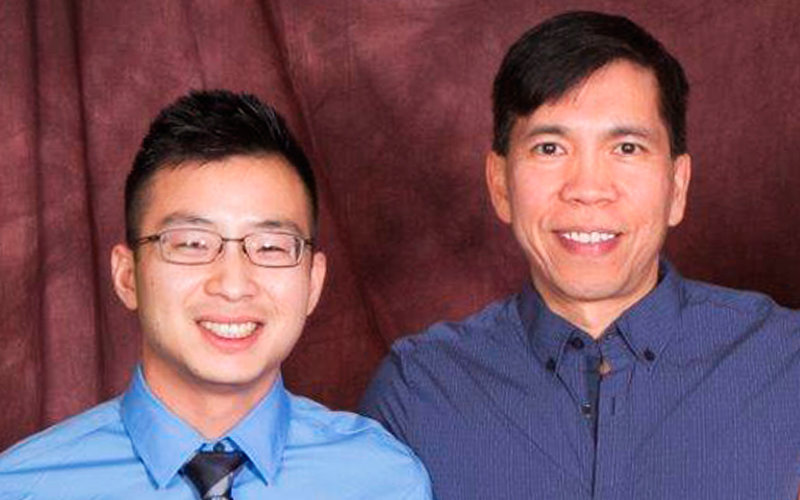 For his creative approaches to teaching, biology graduate student Kevin Chiem is a winner of the Crellin Pauling Student Teaching Award from the California State University Program for Biotechnology (CSUPERB).
The award, which includes a $2,000 scholarship, was presented to Chiem Jan. 9 at the CSU Biotechnology Symposium in Orange County.
"Kevin is an extraordinarily conscientious and caring instructor. He is enthusiastic and well prepared for every class," said Esther Chen, associate professor of biological science, who nominated Chiem for the award. "He cares deeply about his students' learning and has a friendly, patient and helpful manner."
Chiem has taught a general microbiology course since becoming a teaching assistant in fall 2013. As an undergraduate, the CSUF alumnus '12 (B.S. biological science) helped his peers succeed in a biology core course as an instructional leader for the University's Supplemental Instruction program.
The graduate student, who came from an artistic background and later transitioned to science, said his art skills have aided him in seeing the benefits of creative thinking when it comes to teaching and learning science.
He also credited his high school art and biology teachers, in addition to his CSUF science professors, for influencing his teaching style.
"Dr. Sean Walker, my Supplemental Instruction and laboratory adviser, taught me how to draw from my animation background to generate student interest in the classroom," he said. "My research adviser, Dr. Marcelo Tolmasky, taught me that allowing students to explore ideas on their own, in the end, makes them better problem-solvers. I owe a large debt of gratitude to these amazing teachers for whatever successes I've had while working with CSUF students."
Chen noted that Chiem's drive to improve his teaching set him apart from his peers. "Drawing from his experience as an SI leader, where he was trained to help students increase understanding and improve their study habits, Kevin saw teaching as an opportunity to continue to grow and be the best teacher that he could be," said Chen.
"He constantly thinks about new ways to improve his students' learning, such as developing flashcards to help students learn about bacterial morphology, giving quizzes that are crossword puzzles or relating lab activities to health professions as much as possible."
In the lab, Chiem is investigating strategies to prolong the useful life of antibiotics to which bacteria are becoming resistant. He was a finalist for CSUPERB's 2016 Don Eden Graduate Student Research Award and was invited to present his research at the American Society for Microbiology conference this summer in Boston.
The scholar plans to pursue a doctorate in epidemiology, focusing on infectious diseases, and aspires to work for the Centers for Disease Control and Prevention. His teaching experience, Chen said, will help him in his chosen field since "an important part of his job will be to communicate clearly to the public about health-related issues."