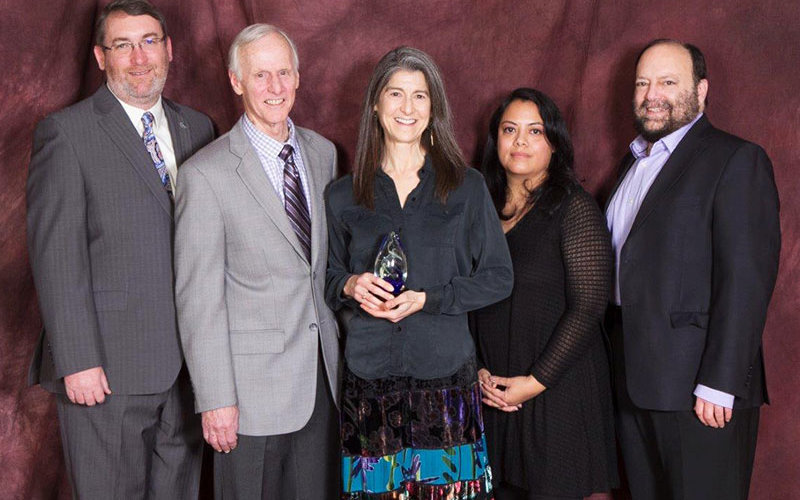 In the classroom and in the lab, Amybeth Cohen's colleagues call her an exceptional and dedicated role model to all of her students — especially the first-generation, underrepresented undergraduates she prepares for careers in biomedical research.
For her outstanding contributions to the development of biotechnology education and research in the California State University system, Cohen is the recipient of the 2016 Andreoli Faculty Service Award from the CSU Program for Education and Research in Biotechnology (CSUPERB). Cohen, professor of biological science, was recognized at the CSU Biotechnology Symposium Jan. 9 in Garden Grove. She joins five other CSUF faculty members who have received the award since 1992.
"The impact that Dr. Cohen has had on nontraditional students, and on her colleagues who mentor many of them, has been tremendous throughout her career," said Robert A. Koch, special assistant to the provost and the 2010 Andreoli Award recipient who nominated Cohen. "Her leadership has created a steady stream of nontraditional students moving into academic and workforce positions in biotechnology-related fields."
Cohen called it an honor to be recognized by her peers.
"I have worked with, and been mentored by, so many amazing colleagues over the years. Each has helped me in some way provide support to our Cal State Fullerton students. I am therefore proud to share this award with them," she said.
For the past 10 years, Cohen has served as director of Cal State Fullerton's Maximizing Access to Research Careers (MARC) program, in which undergraduates from across disciplines conduct biomedical and behavioral research.
The National Institutes of Health-funded program, which has garnered nearly $4.4 million in funding, is designed to increase the success of underrepresented students in biomedical research careers, in which 87 percent of the participants have entered doctoral programs. This year, 13 scholars are funded by the program.
Former MARC student Anita Nosratieh, who holds a doctorate in biomedical engineering and is a lead reviewer at the U.S. Food and Drug Administration specializing in breast imaging for breast cancer screening, said Cohen's impact on her life is "too great for words."
"I cannot think of a better candidate to receive this award, as she is the pinnacle of what great leadership can do, and how that impacts not only biotechnology programs in the CSU, but really the entire world," said the alumna.
Laura Arce, another former MARC student and a CSUF lecturer in biological science, called Cohen someone who provides a supportive learning environment and creates a team atmosphere that promotes independence and student success.
Arce, who earned a doctorate in biology from UCI and is the first member of her family to attend college, serves as MARC assistant director. She added that she would not be where she is today without Cohen's mentorship.  
"Dr. Cohen is an exceptional role model, and I rely on her for continued career advice, as well as personal guidance. I am just one example of dozens of mentees that have been profoundly affected by her selfless dedication to others pursuing their dreams of becoming the type of scientist and mentor she exemplifies."
Throughout her 18-year career at CSUF, Cohen has made numerous contributions, including developing the Research Careers PreparatoryProgram to introduce underclassmen to research; helping to create the concentration in molecular biology and biotechnology; and launching, in collaboration with the Department of English, Comparative Literature and Linguistics, a new "Scientific Writing Course" to benefit all science majors.
In her own lab, Cohen has mentored nearly 80 students on research projects — supported by more than $600,000 in external grant funding. Her research focuses on photosynthetic genes in a green alga, called Chlamydomonas reinhardtii, and the use of the alga to produce therapeutic proteins, including antibodies. She also studies the endangered native Californian plant known as the Santa Ana River Woolly Star and uses genetic analysis to determine how the plant can thrive.