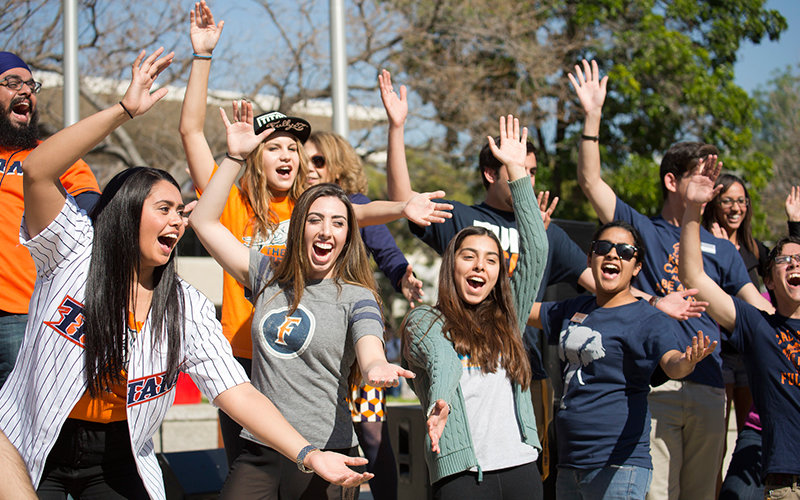 Students are participating in a wide variety of activities this week leading up to Cal State Fullerton's Homecoming Saturday, Jan. 30.
Wednesday, Jan. 27
Elephant Relay Races
Noon, lawn in front of the Student Recreation Center
Students are invited to navigate an obstacle course for a chance to win Titan gear prizes. Props will be available so students can dress up as elephants. No RSVPs are necessary.
Thursday, Jan. 28
Pep Rally
Noon, Quad
President Mildred García will welcome students back to school, followed by games, activities and opportunity drawings. Don't forget to have your photo taken with Tuffy.
Friday, Jan. 29
Fan Friday
Take a photo on campus that illustrates Titan Spirit and post it on Instagram using the hashtag #csufhomecoming2016. Tag @fullertontitans and @asicsuf. Competition closes at 11 p.m.
Saturday, Jan. 30
Homecoming
Pregame: 3-6:30 p.m., west side of Titan Gym
Game: CSUF vs. UC Riverside at 7 p.m. in Titan Gym
Join thousands of alumni, students, donors, faculty and staff Saturday, Jan. 30, for fun and excitement kicking off at 3 p.m. with midway games, a rock-climbing wall, vendor row and an opportunity to purchase a sweatshirt package from Titan Shops. Food will be catered by Pink's Hot Dogs. Seating in a special beer garden area, sponsored by Bootlegger's, is available at an additional fee for adults 21 and older.
For more information, or to purchase tickets, visit the homecoming website.