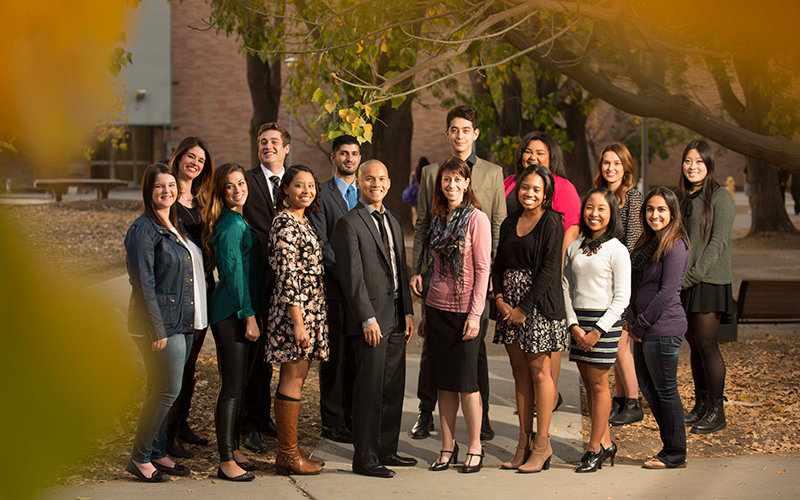 Five of seven Cal State Fullerton teams brought home awards following competition at the Jan. 15-16 American Collegiate Moot Court Association's national tournament in Long Beach.
The Titan moot court teams placed in the top 10 of more than 250 teams in written competition and also performed well in oral argument.
More than 80 teams from 48 universities across the United States competed in oral arguments at the event held at Cal State Long Beach.
In moot court, also known as mock Supreme Court, student teams compete in simulations of an appellate court proceeding — researching and arguing a hypothetical legal case, responding to questions, and showing their forensic and public speaking skills.
Senior political science major Kelsey Brewer, a student trustee serving on the California State University Board of Trustees, won a speaker award. Brewer and Taylor Needham, a senior studying criminal justice, placed 20th as CSUF's highest finishing team in oral arguments.
Dakota Durrego-Mealey, a political science major, and Carlos Ibarra, a sociology and criminal justice double major, made it to the first of the elimination rounds. The other two CSUF teams were defeated in preliminary rounds.
In the written competiton, teams can choose whether to write for petitioner or respondent roles, said coach Pamela Fiber-Ostrow, associate professor of political science.
CSUF's petitioner brief team of Chris Hon, a music major, and Jamie Butts, a women and gender studies and political science double major, took second place. Durrego-Mealey and Ibarra placed sixth.
In the respondent brief competition, Celina Bontigao, a political science and Japanese double major, and Gelane Diamond, a history major, finished in fifth place. Soheil Tabatabatai, studying political science, and Matheus Gubel, a criminal justice major, finished in ninth place. Brewer and Needham placed 10th.
"Our teams are extraordinary, and the written brief is proof that CSUF's Moot Court team — consisting of nearly all first-generation college students — can compete with the elite and private universities in the nation," Fiber-Ostrow said.