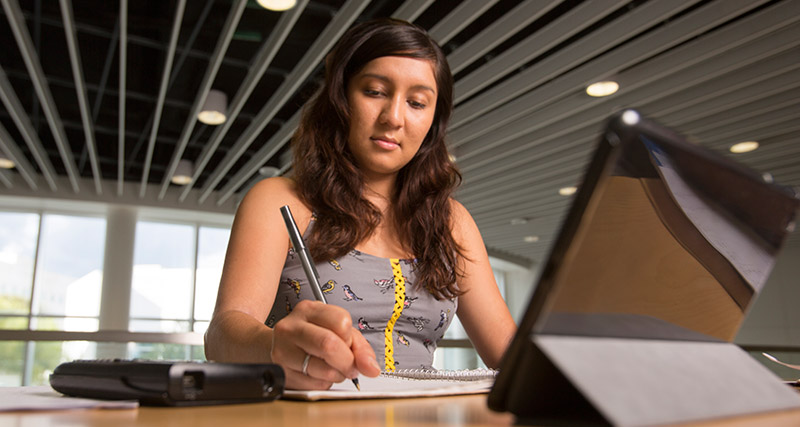 Cal State Fullerton's online master's degree programs in business, engineering and education are among the nation's best in their respective fields, according to 2016 rankings announced today by U.S. News & World Report.
The University's online graduate business program ranks 11th in the magazine's
"Best Online Programs " rankings; engineering programs are 16th; and education programs are 34th. This year's rankings include evaluations of more than 1,200 distance-education programs nationwide.
CSUF's online business program is among 91 ranked programs (excluding the MBA) and is the only California State University campus to make the list. Since 2005, the Mihaylo College of Business and Economics has offered an online master of science degree program in information technology.
The University's online graduate-level engineering programs are among 62 such programs ranked nationally. Cal State Fullerton is the only CSU campus ranked among the top 20 and the highest ranked non-doctoral university in this category. These programs share the No. 16 rank with Texas Tech University and the University of Maryland, College Park.
The College of Engineering and Computer Science offers the master of science degree in software engineering launched in 2004, and the master of science degree in environmental engineering, offered since 2012.
CSUF's online education programs are the highest ranked in Orange County and California. Also, the University is the only CSU campus in the top tier among 188 nationally ranked programs. CSUF tied for the 34th rank with Arizona State University.
In 2002, the College of Education launched the  master of science in instructional design and technology — the University's very first online degree program. Today, the college also offers the master of science in education degree program with concentrations in educational technology, elementary curriculum and instruction, reading education, secondary education and special education.
Media Contacts:
Debra Cano Ramos, 657-278-4027
Paula Selleck, 657-278-4856