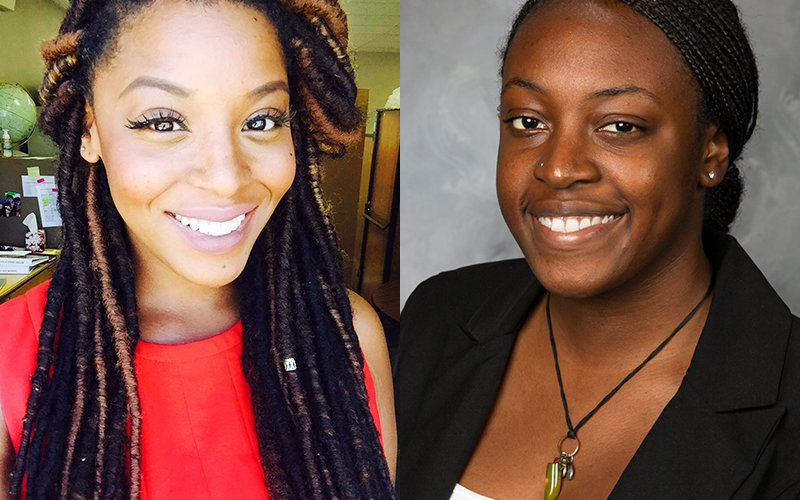 Graduate students Jorcyelin Ani and Aja Daniels, both in the master of social work degree program, aspire to work with disadvantaged children and teens to improve young lives.
Ani has set her sights on opening a nonprofit that offers low-income youth activities, such as tutoring, sports, mentoring and counseling. Daniels aspires to become a school social worker to help underrepresented children dealing with mental health issues.
To assist them in pursuing their career goals, each has been awarded a $6,500 fellowship from the Council on Social Work Education's Minority Fellowship Program, the organization's inaugural master's-level fellowship. Only 40 fellowships were awarded nationwide to students committed to providing mental health services to at-risk children, adolescents and young adults in underserved and underrepresented communities.
The fellowship provides training, as well as financial and professional development support, including two days of intensive training March 6-8 in Alexandria, Virginia.
The goal of the fellowship program is to improve the health outcomes of underrepresented populations by training mental health professionals who originate from similar ethnic groups. Through the program, underserved communities will receive care by practitioners who understand the norms and values of their culture.
"This opportunity will afford me specialized training in my areas of interest, which includes providing mental health services," said Daniels. "Ultimately, receiving this fellowship means that I'm on my way to becoming a more skilled and more effective clinician."
For Ani, choosing the social work profession is her way of paying it forward.
"I came from a disadvantaged background, and within the community I grew up in, we lacked a lot of community resources and support," she said. "My main area of interest is working with children and families that live in low-income, disadvantaged communities. I was an at-risk youth, so giving back to at-risk youth is a must, now that I am able to tell my own success story."
The fellowship for advanced social work master's students is funded by a grant from the Substance Abuse and Mental Health Services Administration, a public agency within the Department of Health and Human Services.
For more information about CSUF's Master of Social Work program, launched in 2007, visit the website.