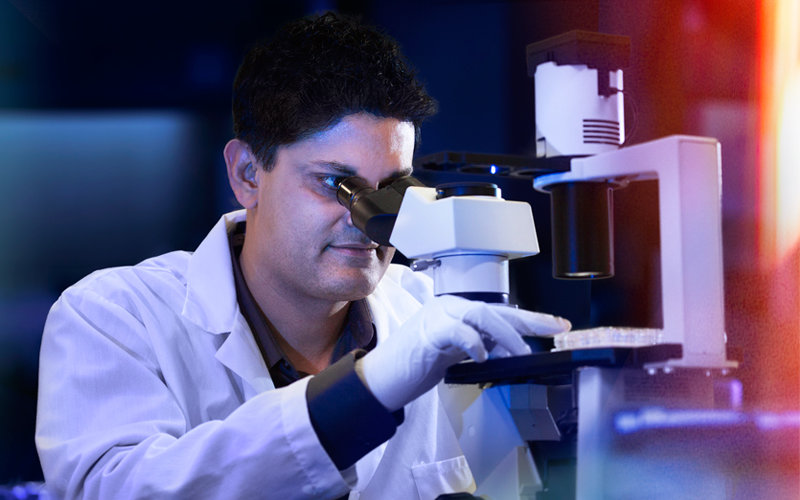 Cal State Fullerton has been awarded a $3 million grant from the California Institute for Regenerative Medicine to continue its scholar program in stem cell research and regenerative medicine to train the next generation of young scientists.
"With this new grant, we will be able to provide excellent training and amazing opportunities to 50 more students over the next five years," said Nilay Patel, associate professor of biological science who directs CSUF's Bridges to Stem Cell Research program.
Past grants of $2.96 million from the California Institute for Regenerative Medicine funded the program's early years, beginning in 2010.
Each fall, up to 10 new scholars are selected for the 14-month program. They participate in rigorous coursework in molecular and cell biology and lab training to prepare for a seven-month paid internship conducting stem cell research  at partner institutions. These institutions include UC Irvine's Sue and Bill Gross Stem Cell Research Center, CHOC Children's and Stanford University's Institute for Stem Cell Biology and Regenerative Medicine.
Benefits for the undergraduate scholars include the opportunity to train in all aspects of stem cell research with possible clinical applications, as well as having their work published in peer-reviewed journals, said Patel.
"We are especially proud that our Bridges program is a development program where we don't require any previous research experience or a particular GPA. It makes the level of achievement our scholars have reached, and in such a short period of time, especially rewarding," added Alison Miyamoto, associate professor of biological science and the program's internship coordinator.
Seven students currently are conducting internships through July, and 46 students have completed the program, with 75 percent of them working or pursuing graduate degrees in health-care related fields. Fourteen of these former scholars also have collectively published 34 articles based on their research, conducted during their internships and/or careers, noted Patel.
"This is one of the fastest-growing areas in biology with the number of jobs in stem cell research steadily increasing," Patel said. "There are many opportunities available, and if students are trained during their undergraduate education, they are better poised to compete for stem cell research positions immediately after earning their bachelor's degree."
According to the California Institute for Regenerative Medicine, national leaders have warned that without skilled, experienced researchers, along with cuts in federal funding, the U.S. is in danger of losing its global competitiveness in science. The Bridges to Stem Cell Research program addresses both issues, supporting young scientists as they get the experience they need to launch their career.
"The goal of the Bridges program is to prepare undergraduate and master's-level students in California for a successful career in stem cell research," said C. Randal Mills, president and CEO of the California Institute for Regenerative Medicine. "That's not just a matter of giving them money, but also of giving them good mentors who can help train and guide them, of giving them meaningful engagement with patients and patient advocates, so they have a clear vision of the impact the work they are doing can have on people's lives."
Media Contacts:
Nilay Patel, Biological Science, 657-278-2483
Debra Cano Ramos, 657-278-4027