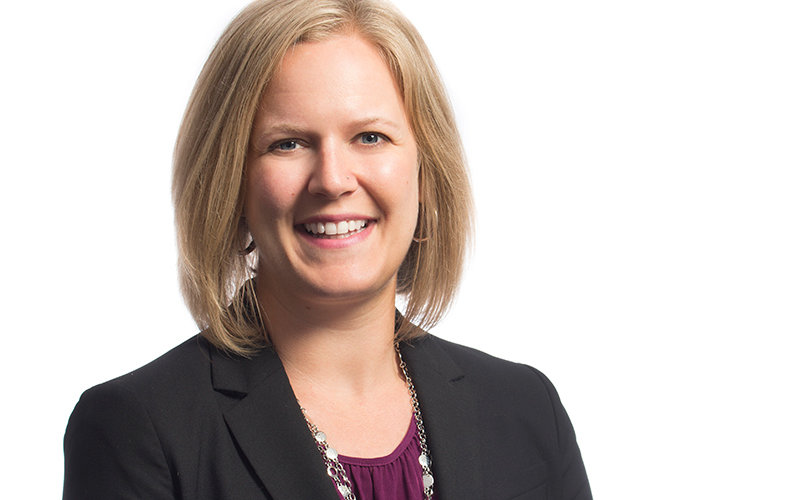 Among the eight tenure-track faculty members who joined the College of Communications in the fall is Alyssa Samek, assistant professor of human communication studies.
Samek says she's eager to experience new adventures in California and to be part of CSUF's engaging and diverse community.  
The scholar earned her bachelor's degree at the University of St. Thomas, her master's at Colorado State University and a doctorate at the University of Maryland.
She has taught courses in political communication, advocacy, public speaking, gender studies and women's studies at Colorado State University, University of Maryland and, most recently, at Drake University in Iowa.
Why did you pursue the opportunity to join the Titan community?
I was excited to join a diverse and thriving academic community in such a wonderful and warm place. I was drawn to the high level of engagement with students, faculty and staff that I experienced when I visited and wanted to be a part of a community that fostered those kinds of interactions in and out of the classroom.
What do you most look forward to now that you're here?
I look forward to engaging with students from such a diverse set of backgrounds and experiences, which will have a positive impact on our work in my courses. I look forward to being part of the Human Communication Studies Department, the College of Communications and the broader Titan community because I like sharing each day with such smart, thoughtful and enthusiastic colleagues.
What areas of continued scholarship and research are of particular interest to you?
As a rhetorical scholar, my work investigates the interconnections among gender, sexuality, identity and power in contemporary and historical political culture. My ongoing projects examine a wealth of archival material — much of it from right here in Southern California — to examine 1970s lesbian-feminist public discourse and explore how lesbian-feminists navigated identity politics, coalition politics, intersectionality, transphobia and other exclusionary practices.
What are some of your outside activities, hobbies or interests?
I love to hike, run, road bike, camp and rock climb. When the weather is cold enough and there is snow in the mountains, I enjoy snowshoeing and cross-country skiing. I think I like just about anything that involves adventure and a good workout. When I'm not exploring, I enjoy yoga, relaxing with wine or a good sour beer, and spending time with my partner and our two cats.