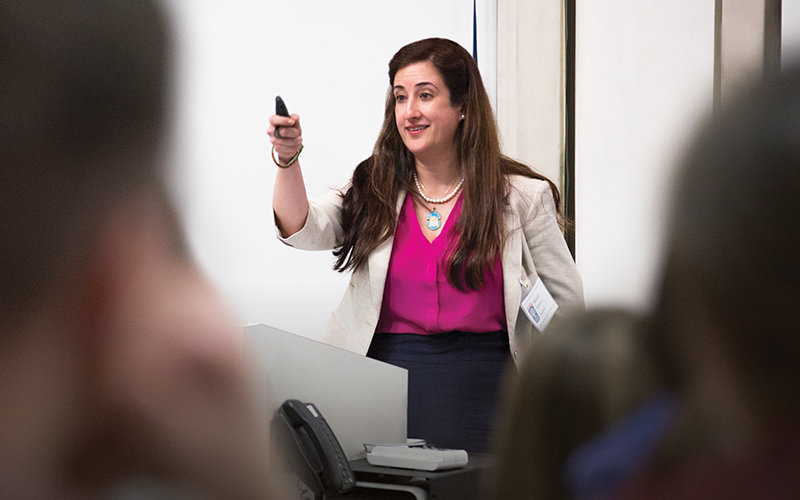 Navid Madani's commitment to health advocacy, education and research stretches beyond classrooms, labs and international lines. The Cal State Fullerton alumna '90, '92 (B.S. biochemistry, M.S. chemistry) and Harvard Medical School senior scientist is building collaborations and infrastructure in the Middle East and in North Africa to help reduce the spread of HIV and AIDS and other infectious diseases.
Madani travels regularly to the region to give talks about the HIV epidemic, to educate and stop the stigma and discrimination toward HIV patients. She began visiting her home country of Iran several years ago to meet with public health officials and the scientific community, addressing HIV and AIDS from a biology-based approach, such as how the disease is transmitted.
"HIV is a taboo subject in the Middle East," she explains. "I'm trying to use my science, as well as leverage my background, heritage and gender, to do something more to address global health issues pertaining to HIV. It makes me feel connected and that I'm giving something back."
With grant support from ViiV Healthcare, a pharmaceutical company specializing in treatment and care for people living with HIV, Madani co-organized the first international HIV/AIDS conference in Tehran in October 2012 with UNAIDS-Iran and the Iranian Research Centre for HIV/AIDS.
While at CSUF, she worked with research mentor Maria C. Linder, professor of chemistry and biochemistry and a Harvard alumna. Originally set on going to medical school, Madani's experience of working in Linder's lab piqued her curiosity about being involved in scientific discoveries.
"Dr. Linder had a big influence on me. In working in her laboratory, I fell in love with doing basic science research. She set the foundation for my career as a scientist," says Madani, who keeps in touch with her CSUF professor and returned to campus last spring as the keynote speaker for the Department of Chemistry and Biochemistry's inaugural "Alumni Day."
"She taught me to be curious about science, to become a critical thinker, and as a woman, mentor and teacher, she taught me about other things in life, like literature and music. She has become part of my family," adds the mother of two young boys.
Madani earned her doctorate from Oregon Health & Science University, followed by postdoctoral work at Harvard Medical School and the Dana-Farber Cancer Institute.
She is continuing her research and studies on the mechanisms of HIV and how the virus enters its host cell.
"We are working toward designing, and finding, an inhibitor that stops HIV at the site of infection before it enters the target cell. It's a potential preventive methodology," says Madani.
Emulating her CSUF faculty mentor, Madani — who also holds an adjunct faculty appointment at Harvard's Department of Global Health and Social Medicine — is enthusiastic about guiding students on their academic and scientific journeys.
"I'm passionate about mentoring and educating the next generation of scientists in the United States and abroad — because that is what Dr. Linder did for me," she says. As part of her international work, Madani has taken students with her to learn from HIV/AIDS experts and health professionals and to conduct research.
"I think it's important to share with my students how science is done in the Middle East and North Africa, expose them to different cultures and social environments, and help them to realize that we have the same challenges and problems," says Madani. "I'm hoping that a side effect of these international exchanges is not just science, but a better understanding of each others' cultures and beliefs."