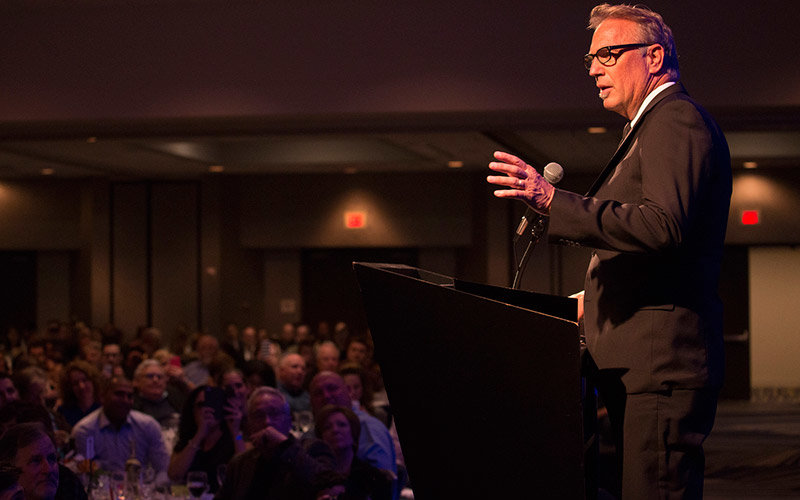 Last Friday, more than 700 Titan baseball fans gathered to hear CSUF alum and award-winning actor/director Kevin Costner headline the 10th annual Dinner With the Titans fundraiser. The event, held at the Irvine Marriott, raised more than $160,000 for Titan baseball.
Costner  '78 (B.A. business administration-marketing) spoke to the assembled guests and reminisced about his days as a student.
"My family moved to Orange County when I was 17," he said. When it came time to choose a college or a job, a friend told him about a college that was "right next to the 57. There are no trees there — you can't miss it." His student fees were $99.
Although Costner never played baseball at CSUF — "I just wasn't that good," he admitted — he always loved the game … and the team.
"The baseball program at Cal State Fullerton is so important," he said. "It's sacred to me."
He also praised the Titan coaches over the years.
"Augie (Garrido) always made me feel important," said Costner. "He made me feel like I was part of the team. George Horton (1996-2006) seemed to have some mystical bond with the team."
Costner has returned to campus several times, often meeting with students and athletes. The actor, who as starred in multiple baseball films, including "Bull Durham," "For the Love of the Game" and "Field of Dreams," has joined Titans during exhibition games and given pre-game pep talks during College World Series appearances.
"I was so moved when [current coach] Rick Vanderhook asked me to speak here," he said. "What many people don't know is that the Titans have sent 59 players to the big leagues — about 12 of them are in this room now.
"And to the players who are here now, you were brought here for a reason — your character and your talent. Trust your talent. Trust your coaches. Trust that you'll get your chance.
"The men who are coaching are winners, but they know that losing is part of the game … but they don't like it.
"For players who see their teammates get called up to the big leagues, there are two emotions — the first is jealousy," he said to laughter from the audience. "The second is pride."
Among the players attending the fundraiser were Dodgers starting third baseman Justin Turner ('04 national championship team) and MLB All-Star and Golden Spikes Award-winner Phil Nevin.
"As many of you know, there's a quote that is prominently displayed at the entrance of our ballpark attributed to former head coach Augie Garrido," said President Mildred García who welcomed guests to the event. "It reads: 'The life lessons are what make baseball so valuable. There's a magic in it. The people are what make the game so special.'
"Indeed, the student-athletes on this team and everyone here this evening are what make this game special; there is magic in what you do; and the life lessons born from your efforts personify who we are as a campus community."
Photos of the event can be seen on flickr.