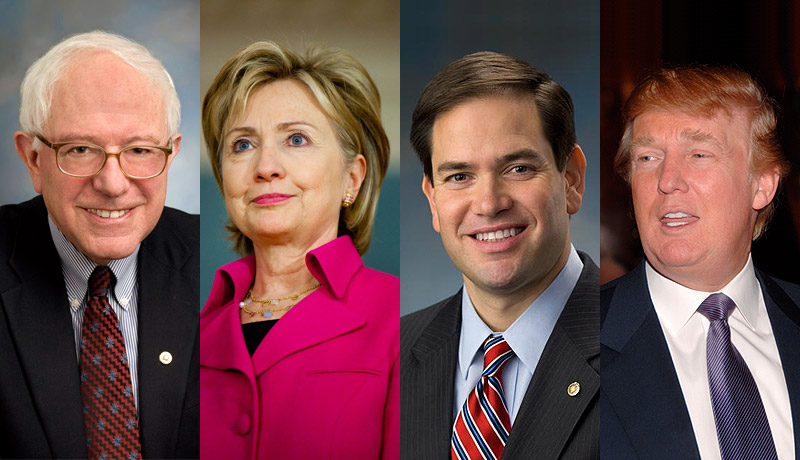 Cal State Fullerton political science and communication experts who picked Hillary Clinton, Marco Rubio and Jeb Bush as winners in earlier debates, have shifted their attention to the Thursday, Feb. 25, Republican debate.
The panel of experts will critique comments from presidential candidates during the live debate and at least four more debates scheduled through March, posting winners on the CSUF Presidential Debate Portal within minutes of each event's final barb.
The "one-stop shop" for assessment and analyses of the quality of the candidates' positions and strategies is an extension of the University's tradition of strong debate teams and political dialogue. Offering engaging comments from experts leverages the University's position in the electronic world of college debate, said project head Jon Bruschke, professor of human communication studies.
The new CSUF Presidential Debate Portal is gaining attention from faculty and judges at universities across the map, including the University of Puget Sound and the University of Houston — the site of this week's debate.
At CSUF, it's sparking discussion and debate. Students are asking more questions in class — about policy rather than just the election process, said political science professor and judge Stephen Stambough. One student recently accepted a paid internship to conduct Latino voter outreach for Democratic candidate Bernie Sanders, he said.
So what's changing as the pack of candidates thins?
"The election moves from parochial states, where candidates were talking retail politics and regional issues, to wholesale politics and a more national campaign," said Stambough.
"It's about who has the money, name recognition the ability to draw the crowds," he added. "Donald Trump's campaign fits well with the rest of the primary season."
"When we watch the debates it's a matter of: Will Ted Cruz expand beyond mostly appealing to evangelical voters? Will Donald Trump solidify his position as frontrunner and likely nominee? Will Marco Rubio or John Kasich emerge as a more serious alternative [candidate]?"
Real-time ratings
Even before news stories post about how the politicos perform at the debate, CSUF experts will cast their ballots.
The judges will rank the top three candidates in each debate, including the Thursday, Feb. 25, CNN Republican Debate, as well as those on the following dates:
March 3, Fox News Republican Debate
March 6, CNN Democratic Primary Debate
March 9, Univision Democratic Primary Debate
March 10, CNN Republican Debate
The nonpartisan panel of judges ignore each candidate's style and base decisions solely on who wins when addressing the issues. Judges use the best standards of argumentation theory. The judges' decisions can include but are not limited to simple fact checking. Instead they'll begin by asking which candidate won which point. Those points are tallied and judges are encouraged to connect each point back to the overall case for or against each candidate.
Candidates must advance their positions and offer supporting evidence for substantive issues.
Judges will study how that evidence is refuted or defended.
Related story: CSUF News Service
Media contacts:
Jon Bruschke, professor of human communications studies, 657-278-3272
Cerise Valenzuela Metzger, 657-278-3708