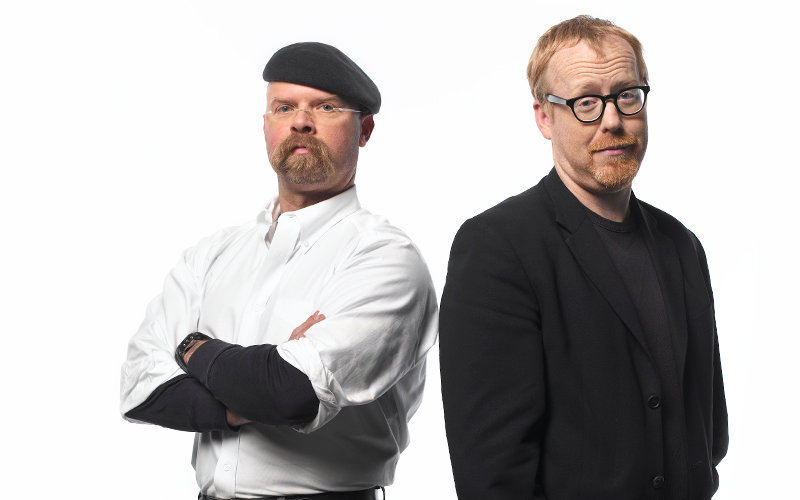 What/Who:
Can combining Diet Coke and Mentos make your stomach explode? Is it possible to beat a lie-detector test? Is a dirty car more fuel-efficient than a clean car? These are some of the myths Jamie Hyneman and Adam Savage have put to rest as hosts of the Discovery Channel's popular "Mythbusters" television show.
Hyneman and Savage will tell their tales of experiments, explosions and hijinks during their keynote address March 17 at Cal State Fullerton's "Realizing Reality: Shattering Expectations," presented by the College of Natural Sciences and Mathematics' Inter-Club Council (NSM-ICC) student organization.
When:
6 p.m. Thursday, March 17 (doors open at 5 p.m.)
Where:
Cal State Fullerton, Titan Student Union's Portola Pavilion
800 N. State College Blvd., Fullerton, 92831
Cost:
The event is open to the public with a purchased ticket. Tickets are $50 each, with a limit of two tickets per person. CSUF students, faculty and staff members can receive one free ticket and may purchase up to one additional ticket each.
Ticket Info:
Tickets are available beginning at 8 a.m. Tuesday, March 1, at the Titan Student Union's Information and Services counter, located on the first floor, until all tickets have been distributed to students, staff and faculty members, or sold. Tickets must be picked up in person and are not available online. For hours of operation, visit the Titan Student Union website.
Background:
On the Emmy-nominated "Mythbusters" series, Hyneman and Savage uncover the truth behind popular myths and legends by mixing scientific method with gleeful curiosity and plain old-fashioned ingenuity to create a signature style of experimentation. Inspiring a generation to inquire, interact and get involved with science, "Mythbusters" uses a signature brand of explosive experimentation to prove or disprove popular myths, misconceptions and legends. Since 2003, the duo has tested more than 1,000 myths, performed about 3,000 experiments and filmed over 9,500 hours.
About the Speakers:
For their work to inspire young people's interest in science, Hyneman and Savage have received accolades and awards, including being named Honorary Lifetime Members of the California Science Teachers Association, inducted as honorary members into Sigma Xi, the Scientific Research Society, and were invited to participate in President Barack Obama's STEM initiative.
Additional:
"Having speakers like Mr. Hyneman and Mr. Savage helps to bring recognition to all the student research that our symposium is centered around," said mathematics major Jeremy Wilson, president of NSM-ICC. "This event also creates more awareness of all the resources and research opportunities available to students — and what we can accomplish together."
Parking:
$2 per hour or $8 for a daily permit. Details are available online.
Symposium Info:
This event is part of the Natural Sciences and Mathematics Inter-Club Council's annual symposium, which begins Tuesday, March 15, through Friday, March 18. The symposium features student research presentations and faculty lectures in the Titan Student Union's Portola Pavilion. These events are free and open to the public.
Sponsor:
The NSM-ICC is one of the eight academic inter-club councils at Cal State Fullerton. The NSM-ICC receives funding from Associated Students Inc. to help support student science and mathematics research.
For More Info:
Colleen McDonough, College of Natural Sciences and Mathematics, 657-278-4158
Media Contact:
Debra Cano Ramos, 657-278-4027