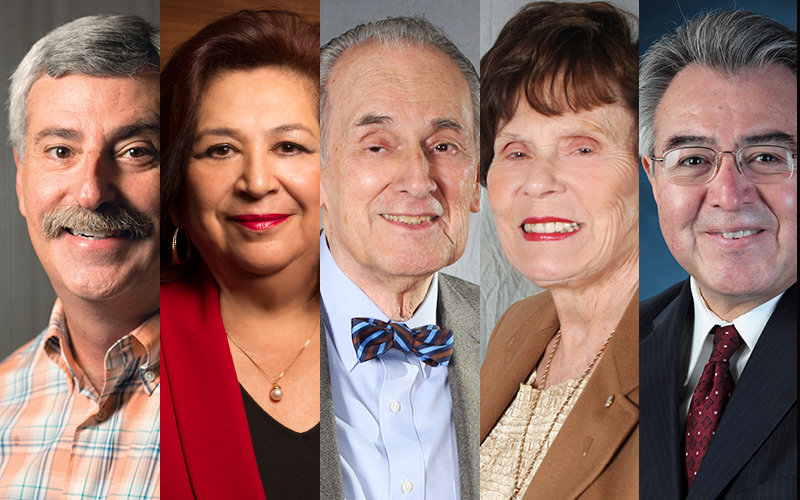 Five Titan alumni and supporters will be honored Feb. 20 at Cal State Fullerton's Vision & Visionaries dinner and celebration. The Vision & Visionaries awards are the highest honors that the University bestows on alumni and community supporters.
This year's honorees are:
Lee Begovich, retired teacher, Fullerton School District, and
Nicholas Begovich, retired corporate vice president, Hughes Aircraft Company
This year's Honorary Alumni Award is presented to Lee and Nicholas Begovich, in recognition of their professional accomplishments, service to their community and commitment to the students and programs at Cal State Fullerton. The couple give annually to the President's Scholars Endowment Fund and have offered longstanding patronage to the College of the Arts' multiple support groups, including Art Alliance, Music Associates and MAMM Alliance. Lee was a first-grade teacher for more than two decades, while Nicholas spent 22 years with Hughes Aircraft before joining Litton Industries in 1970 as a corporate vice president. He has served as a consultant to the Applied Physics Laboratory at Johns Hopkins, the Department of Defense and other companies and is the inventor and co-inventor of several patents related to airport approach and landing systems. His groundbreaking work in frequency scanning led to significant advances in U.S. and European air defense systems during the Cold War era.
Rosalina Davis '77 (B.A. Spanish), owner, Tlaquepaque Restaurant
The recipient of the Distinguished Alumna Award, Rosalina Davis, owner and operator of Tlaquepaque Restaurant in Placentia, is a tireless advocate for the City of Placentia, serving on numerous boards and committees. As a founding board member of Cal State Fullerton's Hispanic Scholarship Golf Tournament and current vice chair, she helps oversee an event that raises more than $100,000 each year for scholarships and a perpetual endowment of $500,000 established for future students. Since 2013, Davis has served on the board of the University's Auxiliary Services Corp. The restaurateur has been recognized for her accomplishments over the years, including the 2013 Business Women of the Year Award from the National Hispanic Business Women Association.
Gary Green '80 (B.A. business administration – finance), executive vice president and manager, California Bank & Trust
Gary Green is recipient of the Distinguished Alumnus Award. The bank executive, who earned an MBA from USC after graduating from Cal State Fullerton, began his career at Bank of America and then moved to Eldorado Bank in 1989 as regional manager of the Tustin headquarters office. When California Bank & Trust's acquisition of Eldorado Bank in 2001, Green continued to rise through the ranks to his current position as executive vice president and manager for the Orange County commercial banking region. He served as chair of CSUF's Concert Under the Stars Community Committee for four consecutive years, is committee chairman of Mihaylo College of Business and Economics' Mid-Year Economic Forecast and serves on the college's executive council.
Enrique (Henry) Martinez '75 (B.S. engineering – electrical), retired vice president of power production, Southern California Edison
Henry Martinez, who went on to The Executive Program (TEP) in strategic leadership from University of Virginia's Darden School of Business following his graduation from Cal State Fullerton, is honored with the Distinguished Alumnus Award. He was one of the University's early Equal Opportunity Program students and played on the men's soccer team from 1972 to 1974. Prior to retirement, Martinez helped secure funding for the CSU Edison Scholars Program. Martinez, who serves on the College of Engineering and Computer Science leadership council, delivered the keynote address to the Hispanic Association of Colleges and Universities Summit, sponsored by CSUF, in 2014. He formerly served on the Cal State Fullerton Philanthropic Foundation Board of Governors.
For more information about Vision & Visionaries, visit the event website or call 657-278-3480.