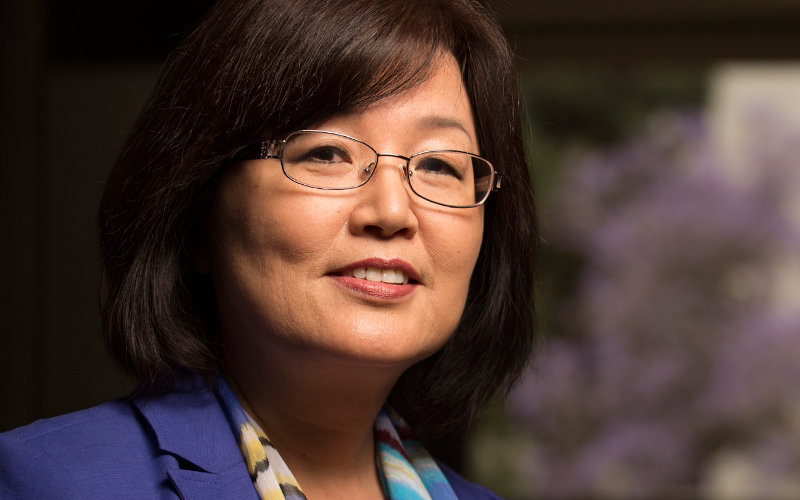 Mikyong Kim-Goh, professor of social work, received the Lifetime Achievement Award from the Korean American Social Work Educators Association, part of the Council on Social Work Education, the largest group of social work educators in the nation and the sole accrediting agency for social work education in the U.S.
She was honored for excellence in scholarship, teaching, service and leadership. The scholar's research is dedicated to addressing interpersonal violence and mental health issues in Korean and Asian American communities, as well as other underrepresented populations. Read more here.
Ellen Lamberth, a lecturer in human communication studies, will receive the California Speech-Hearing-Language Association's Diversity Award, an honor recognizing multicultural efforts, during the organization's April 28-May 1 convention in Anaheim. Last year, Terry Saenz, professor of human communication studies, won the statewide award.
At the same conference, HyeKyeung Seung, professor of human communication studies, will be recognized with the District 8 Outstanding Leadership Award. The educator has served on campus since 2006, holds a monthly parent support group with Korean-American mothers with autistic children and serves on an advisory board member for the Korean Special Education Center in Anaheim. Receiving the District 8 Outstanding Student Award will be graduate student Avalon Scopellite '14 (B.A. communicative disorders).
The Board of Governors of the Kennedy Center American College Theater Festival awarded theatre and dance lecturer William Lett with the Excellence in Theatre Education Award. The honor recognizes faculty and staff in various universities and colleges who go "beyond the call of duty" in devoting their time, efforts, talent and energies on behalf to students and their institution.
John Alexander, professor emeritus of music and Pacific Chorale's artistic director and conductor, received the Association of Choral Conductors' Western Division Lifetime Achievement Award in Choral Music Saturday, Feb. 27, in Pasadena.