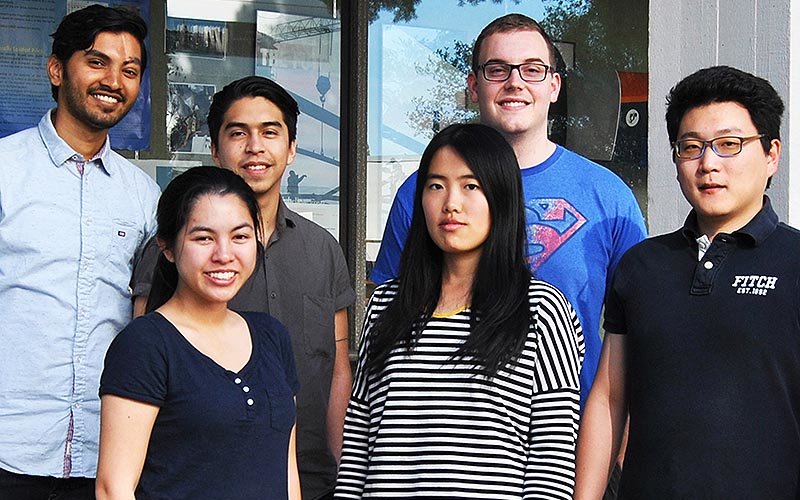 Cal State Fullerton and GE Digital have teamed up for the GE/California State University Innovation Challenge, where student teams from five CSU campuses, including CSUF, will compete to develop projects for the Industrial Internet, also known as the "Internet of Really Important Things."
The competition, launched March 24, challenges engineering and computer science students to create a sustainable campus app — using GE's Predix software platform for the Industrial Internet — that demonstrates their data engineering knowledge. The competition, designed to spur innovation and help prepare students for the workforce, will award scholarships — totaling $25,000 — and summer internships at GE Digital.
Alumnus Bill Ruh '83, '84 (B.S., M.S. computer science), GE Digital's chief executive officer, was instrumental in creating this opportunity for students, with the digital industrial company awarding CSUF a $150,000 grant for the challenge, said Hart Roussel, CSUF director of planned giving.
"This is an opportunity for industry and for education to work together to give students the chance work on the next big thing — and that is how analytics and machine intelligence, coupled with the cloud, are going to change how we create a more sustainable planet," said Ruh. "We're excited because of the enthusiasm and knowledge the students bring, and I can't wait to see the results."
CSUF team members are: computer science undergraduates Luis Covarrubias, Joseph Porter, Shelley Pham and Yijie Sun; computer science graduate students Bowen Tian and Yuting Zhang; and Harpreet Saini, computer engineering graduate student. Yun Tian, assistant professor of computer science, is the team's faculty adviser. Shawn Wang, professor of computer science, is the faculty coordinator for the overall competition.
Other participating teams are from CSU campuses in Los Angeles, Northridge, San Francisco and San Jose. Winners will be announced April 29, when students will gather in the San Francisco area to present their work before a panel of judges of GE executives, plus technical writers and leaders.  
"This competition offers students the opportunity to apply what they've learned in the classroom to a real-world problem — giving them experience and a competitive edge in the job market," Wang said. "They'll acquire cutting-edge knowledge about the Industrial Internet and the Predix platform, gain hands-on experiences on developing a working project and learn how to build a business model using technology."