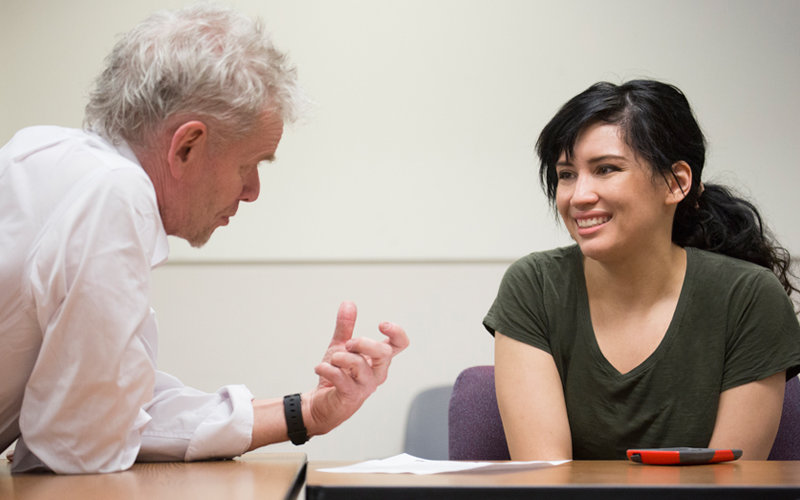 About 20 Cal State Fullerton students are placing the finishing touches on written and oral histories they'll share with a special German delegation Saturday, March 12, at the first Long Table event in the United States.
The event, founded as "Lange Tafel" more than 10 years ago by Berlin-based artist Isabella Mamatis, encourages people to record and share their immigration stories. Mamatis, her daughter Clara Tucholsky, and a group of German residents traveled to California to assist in the inaugural U.S. event.
History professor Cora Granata organized the event at Grand Park in Los Angeles with host — CSUF's Center for Oral and Public History — and the LA-Berlin Sister City Partnership. It's a project Granata dreamed of since she attended the 2014 annual events in Kreuzberg.     
"I was looking at ways to develop partnerships in Berlin that would bring international opportunities to our students," Granata said. "I was impressed by the way it brought a community together and fostered civic engagement through collective storytelling."
Students in Granata's Community History course shifted from studying the techniques of gathering and archiving history to gaining practical experience sharing personal stories publically and planning an oral-history themed festival. They recorded the oral histories of friends and family members who emigrated from far away borders in Nigeria, Colombia and Japan, and traveled this week to mentor fourth-grade storytellers at Goethe International Charter School in Los Angeles.
Planning and promoting the event, its musical entertainment and a related website have drawn the attention of campus students studying not just history, but communications, music, marketing and linguistics.
The project develops the students' empathy, said Granata.
"It opens their eyes to a wider world, and helps them understand that other nations besides their own are dealing with the important issue of immigration," she said. "It puts trends in Southern California into a broader global perspective for them. Many of these students have never had the chance to travel internationally, so this class is bringing the international visitors to them."
Graduate student and history major Mark Garcia is a presenter at Saturday's event. He'll share an interview with Manoushak Gekchyan of Costa Mesa. Gekchyan, the mother of Garcia's lifelong friend, shared her story of fleeing Armenia in the 1980s, while it was part of the Soviet Union. At the time, Garcia's friend was 5 and his sister 2. Gekchyan and her husband were in their 30s.
The family spoke no English and had little more than passports and the name of a sponsor. The journey stalled two days at the Russian border and a week in Italy. Though told humbly, the family's tenacity and resilience were apparent, yet his friend had never shared such details.   
"I knew the story, but I didn't know about their whole struggle," Garcia said. "You may have friends your whole life, but you don't often deep dive into their life."
Classmate Victoria Perez interviewed a distant relative who emigrated from Colombia. Her story and photos will appear on a clothesline-like display with the tales of others, at the Long Table event.
"They all came for different reasons, but they started a life here, and they all know how it feels to be an immigrant," said Perez, a graduate student studying history.
Granata will take a group of CSUF students to Berlin this summer as part of the College of Humanities and Social Sciences Study Abroad Program, and the group will participate in a July "Lange Tafel" event in Berlin.