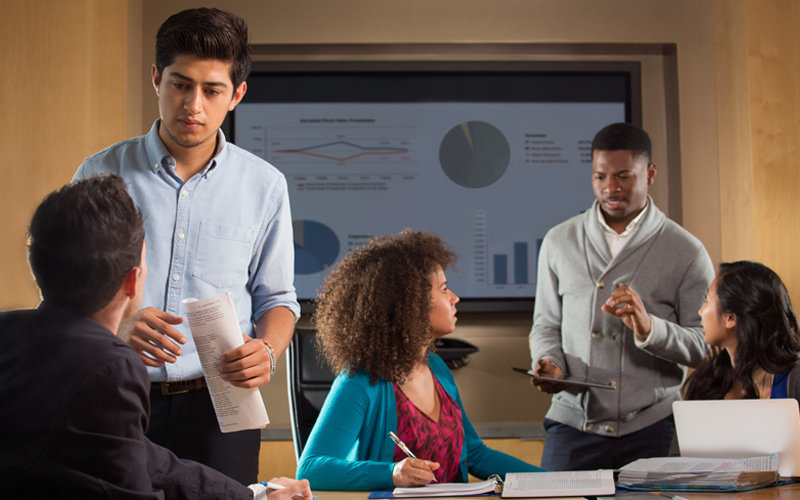 UPDATE: Applications for the next cohort of students — high school students graduating in spring 2017 — for this program are now being accepted through March 10, 2017. The cohort is limited to 30 students. Notifications to applicants will be made beginning Nov. 18.
California State University, Fullerton's Mihaylo College of Business and Economics and Irvine Valley College (IVC) have signed an agreement creating a program for qualifying high school students to earn a bachelor's degree in business in four years and continue on to earn a master's degree in the fifth year. 
As part of the agreement, participants will attend IVC with guaranteed class enrollment for two years, then apply for admission to Cal State Fullerton. Once at CSUF, the student will be guaranteed classes at the CSUF Irvine Campus with the opportunity to earn a bachelor of arts degree in business administration with an accounting concentration in four years.
Students in the cohort who complete the undergraduate program can add one more year to their studies to earn a master of science in accountancy at CSUF — and meet the educational requirements to become a licensed certified public accountant (CPA).
"We are very excited to be offering this program," said Anil Puri, dean of CSUF's Mihaylo College of Business and Economics. "IVC is our logical partner for the launching of this program, given the success their students have had once coming to CSUF. Additionally, as the demand for accountants continues to strengthen, starting earlier outreach at the high school level is becoming of paramount importance to us."
In order to qualify for the program, high school students will be required to join the program and complete certain courses prior to attending IVC. While attending IVC, students will be given the opportunity to job shadow professionals in both public and private accounting. In their fourth semester at IVC, students may elect to join CSUF's Accounting Society.
"We are grateful to our former IVC accounting students as, without their continued success, we would not have been selected by CSUF's Mihaylo College," said Glenn Roquemore, IVC president. "We are very much looking forward to this partnership and using our existing network outreach programs at area high schools to fully implement this program."
Cathleen Greiner, dean of IVC's School of Business Sciences, added: "The program will provide an amazing opportunity for high school students and, with the mentorship component, will further strengthen the ties between our local business community, IVC and Cal State Fullerton's Mihaylo College of Business and Economics."
More information about the program is availble on the IVC website. Accounting firms and professionals interested in becoming a program mentor are invited to contact April Morris, IVC program director, 714-598-8983.