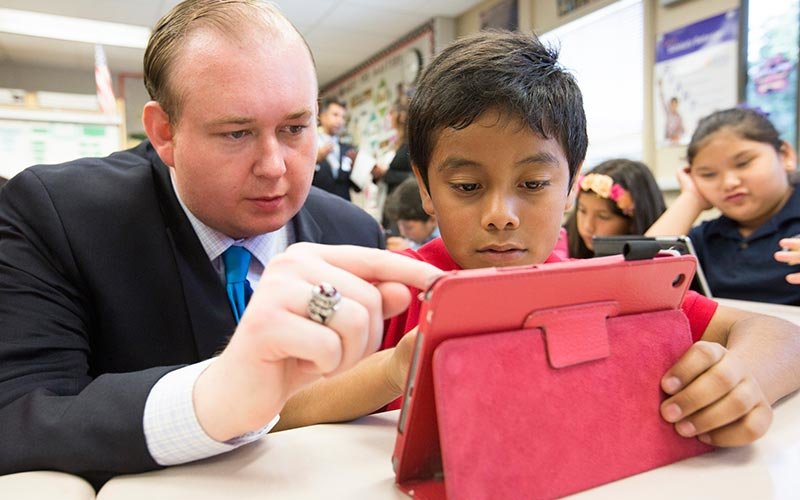 Inside a first-grade classroom at Rio Vista Elementary School in Anaheim, teacher candidate Jesse Arzt kneels beside young Ricardo, sitting at his desk with an iPad and learning computer coding.
Arzt, a student in Cal State Fullerton's combined multiple subject credential and master's in education program, guides the first-grader as he successfully completes the coding puzzle. The screen flashes: "Congratulations … You wrote the code!" The boy beams, as he and Arzt high-five each other.
Teacher candidates like Arzt are getting the teacher training and high-tech skills they need to educate children in today's technology-driven classrooms through the College of Education's "iSTEM Partnership" with Placentia-Yorba Linda Unified School District.
Through the partnership, CSUF students are co-teaching in K-5 classrooms and gaining the confidence and skills to become STEM (science, technology, engineering and mathematics) educators, said Kim Case, lecturer in elementary and bilingual education, who directs the partnership.
"While elementary students exhibit increased engagement, classroom teachers and teacher candidates work together, along with CSUF faculty, to integrate technology in a purposeful manner so that students are encouraged to collaborate, create, communicate and think critically about the content they are learning," said Case.
Rio Vista principal and CSUF alumnus José Cabrera '97, '03 (B.S. child development, M.S. education-elementary curriculum and instruction) praised the collaboration created in 2010.
"Our partnership is giving our students access to the latest technology, and for teachers, it's giving them the opportunity to integrate technology that enhances student learning and engagement," Cabrera said. "The teacher candidates come with an energy that they inject into the entire school culture and form part of our school community — and it's contagious. They bring best practices and the newest strategies into our classrooms."
A spring "Family Science Night," which will be held March 10, and an afterschool STEAM program, with a focus on engineering, at four elementary schools are an outgrowth of the partnership. Rio Vista also has created a STEM Club, where half of its members are girls, and "Hour of Code," where students learn computer coding.
To date, about 350 teacher candidates have taught more than 2,000 K-5 students at four elementary schools, including Rio Vista. The program expanded last year to Melrose Elementary School in Placentia.
The iSTEM partnership has helped to boost the elementary students' aptitudes, attitudes and disposition toward science, said Case. Standardized test data indicate student proficiency in science has nearly doubled.
The program also bolsters the confidence of teacher candidates, such as Kaldia Nigh, in teaching math and science and in using technology in the classroom.
"What better way to learn and prepare for our future teaching careers than to actually be inside real classrooms with real students?" asked Nigh.
Nigh also has enjoyed seeing her young students succeed.
"I've received handwritten letters and cards from students telling me how much I made a difference in their lives," she said. "One student thanked me for always believing in her and making her feel like she could do anything.
"This experience has made me realize that all of the hard work and effort that I am putting into this program to be the best student that I can be is going to be worth it in the end — because I will get to make a difference in students' lives all of the time."
For more photos, visit online.