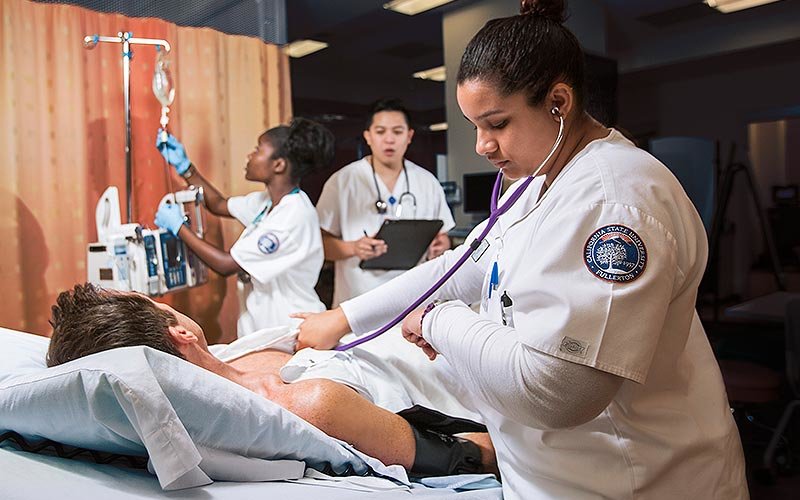 Two of Cal State Fullerton's nursing programs rank in the top tier in the nation of U.S. News & World Report's 2017 rankings of graduate schools.
The College of Health and Human Development's master's program in nursing-nurse anesthetist concentration ranks No. 4 — the highest ranking achieved for graduate programs throughout the 23-campus Calfornia State University system.
CSUF shares the No. 4 national ranking with Chicago's Rush University, Uniformed Services University of the Health Sciences in Maryland and the University of Pittsburgh. Overall, 106 programs are publicly ranked in the Nursing-Anesthesia category.
In addition, the master's program in nursing-women's health care concentration, which includes an emphasis in midwifery, shares the No. 20 ranking in the Nursing-Midwifery category with Marquette and Seattle universities.
"The rankings validate our success, our excellent faculty and enable us to recruit the highest caliber students — and a diversity of students that prepares advanced- practice nurses to help address health inequities in the United States," said Penny Weismuller, associate professor of nursing and coordinator of graduate programs in the college's School of Nursing.
The nurse anesthesia program is offered in partnership with the Kaiser Permanente School of Anesthesia. The curriculum for the program provides students with scientific, clinical and professional foundations upon which to build a sound and safe clinical practice.
Weismuller added that CSUF's nurse anesthesia program is highly competitive, attracting applicants from across the country. "This year we had 400 applicants for 35 spots," she said.
For the midwifery program, the University partners with health care institutions and midwives from across the Southland to help deliver a top-notch program for students, Weismuller said, adding that the women's health care concentration is accredited by the American Commission of Midwifery Education.
For U.S. News' methodology of the rankings and more, visit online.