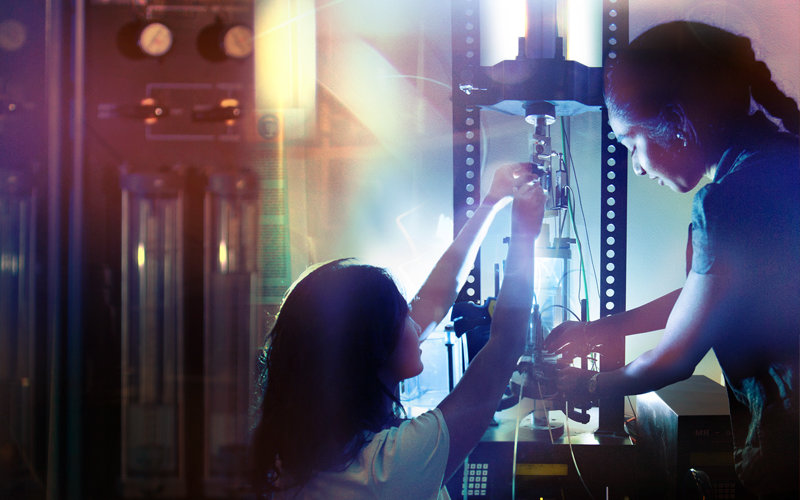 As a teen, Jeanette Corona knew that she wanted to create and design products to advance engineering and technology to help humanity. She pursued a mechanical engineering degree at Cal State Fullerton and was among a handful of women in the Class of 2015. After graduation, she landed her first job as an engineer at Edwards Lifesciences, an Irvine company specializing in the design and manufacture of artificial heart valves.
"I'm glad I stuck with it," says Corona, whose engineer role models are her two older brothers, also CSUF grads. "Now I'm working on products that can save lives."
With low numbers of females choosing engineering and computing careers nationwide, the College of Engineering and Computer Science is priming the pipeline by partnering with industry, providing mentoring and offering extra support to encourage and motivate female students to stay in engineering and computer science, graduate and enter the workforce.
Because data show that the first two years are critical in student retention and eventual success, the college wanted to do more to advance female freshmen and sophomores. In 2012, it began offering a specially designed one-unit course for entering women, made possible by a gift from Raytheon. Over the last couple of years, the outreach effort has succeeded in helping retain female students in the historically rigorous majors, notes Victor H. Delgado, assistant dean for the college.
With continuing Raytheon support, the college launched a re engineered effort — the Women in Computing and Engineering program — to provide a more comprehensive approach to foster a learning community, improve college persistence and graduate more women. Begun in the fall, the program provides extra academic and support services, leadership opportunities, career planning and advice, as well as exposure to female industry and faculty mentors to help them succeed in their majors and professions. Program offerings include counseling and retention services, peer-to-peer mentoring and career readiness workshops.
"One of the key focuses of this program is connecting students to professionals, specifically women within the industry, while also adding the element of site visits to companies to introduce them to the world of engineering and high tech," says Marcela Rojas, the college's career specialist, who coordinates the program with Delgado.
"We're passionate about empowering female students by providing a learning community and sense of belonging to show them that they can do it and that women are just as capable as males to thrive in engineering and computing disciplines," says Susamma Barua, professor of computer science and computer engineering and the second female to hold the position of associate dean within the college. "Industry needs women because women provide a different perspective in the workplace."
Alumnae Take the Lead
When Laurie Haack '79, '06 (B.S. computer science, M.S. software engineering) walked into her first computer science class at a local community college in the 1970s, she was the only woman. Originally a business administration-accounting major, she switched to computer science after taking a programming course, awed by the possibilities.
"When I first looked at the computer science curriculum, I remember that my stomach clenched, and I felt very stressed about the path ahead," Haack recalls. "The curriculum had many courses that sounded so difficult, plus courses on topics that I had never heard of. I have since learned that it is good to be scared. It means you are stretching and challenging yourself, and I tell other women, 'Jump in, you can do it!'"  
Haack has enjoyed a 37-year career at Raytheon, where she manages a 30-member team that develops software for battlefield radar systems. She is among several mentors who frequent campus special events and career fairs, serve as guest speakers or meet female students for lunch.
"I think that by being here on campus, young women can better visualize their future opportunities when I talk about my experiences in the engineering field and at my company, and how I have balanced my family and career," says Haack.
Caecilia Gotama '82 '86 graduated with her bachelor's and master's degrees in engineering-mechanical despite her father's belief that the profession wasn't ideal for a woman. She happily proved him wrong and worked in various progressive positions before starting her own successful engineering firm.
"The good thing about being a woman in a male-dominated industry is that everybody will remember you by name; you are not just one of those 6-foot-tall people with a blue suit and tie. If you are good at what you do, everybody will remember that," says Gotama, who recently retired.
Corona also has returned to her alma mater to talk to students enrolled in the Introduction to Engineering course.
"The first engineering class can be intimidating," says Corona. "Mentors are important for both males and females. In order to obtain a good start, the correct guidance is key to a successful career. It is a great way to network and meet professionals.
"Women also need to understand that computer science and engineering are excellent career paths," she adds. "Great discoveries have been made by women — and the key to increase women in these fields is exposure to women in these fields."
Gotama also is a keen supporter of the college. She has provided funding for the development of communications and soft-skills training so undergrads — both female and male — can flourish in technical careers.
"Bringing the importance of these skills to the forefront to all students and providing them with training opportunities will help them perform better in their work environment," says Gotama. 
Faculty Boost
Increasing the number of females in academia is just as important as in industry, says Barua. In the fall, four women joined the college faculty, including Beena Ajmera '11 '12 (B.A. civil engineering and mathematics, M.A. civil engineering), assistant professor of civil and environmental engineering, who holds a doctorate from Virginia Polytechnic Institute and State University.
"As a high school student, when I told people that I was interested in a career in engineering, I was often asked, 'Are you sure?' I was constantly reminded that I was entering a male-dominated industry, and some even went to the effort of giving me statistics about how few female engineers there are," says Ajmera.
She is excited to be back at her alma mater to inspire and build confidence in all her students, especially women.
"Studies have shown that more women are likely to pursue careers in engineering if the presence of female faculty exists. Female faculty members and female engineers in the industry can illustrate and even put a voice to the idea that this does not need to be a male-dominated industry, that there are plenty of women who can contribute, and that their hard work and opinions are valued," she says. "Women can provide the additional support and guidance that's needed to bridge the gap between a male-dominated industry and a gender-balanced industry."
The Next Generation
Freshman Marissa Alvarez has always had an interest in math and science, yet had her sights on pursuing a career in business.
That changed after she landed an internship at Northrop Grumman during her last semester of high school.
"The experience opened my eyes to all the amazing inventions created by engineers. It motivated me to strive to one day work for such a prestigious company — and be part of something big to make this world better," says Alvarez.
 A first-generation college student and a member of the student chapter of the Society of Hispanic Engineers, Alvarez has already met with Haack and her fellow female engineers, who encourage her to stay with it.
"Hearing their stories, getting insights about the field and the steps they took to be in the positions that they are in today inspires me to want to be successful like them."