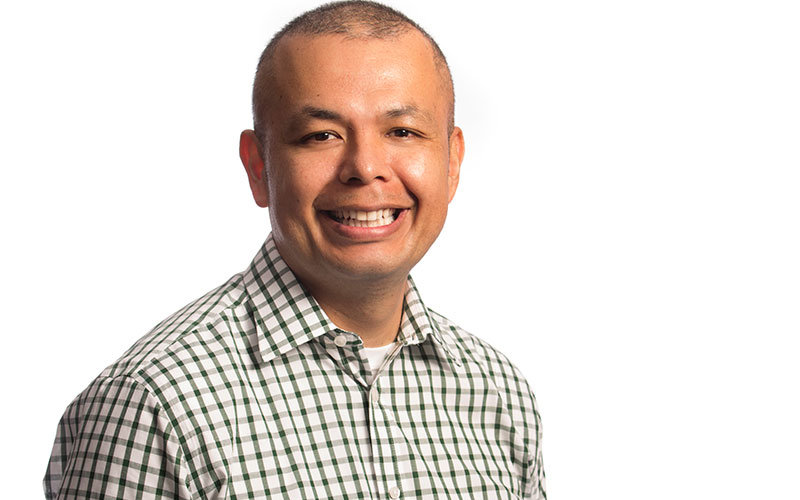 Roberto Soto, assistant professor of mathematics, came to Cal State Fullerton in the fall with a wide range of math teaching experience: from high school, community college and university, and pre-algebra to calculus. He also has designed math curriculum, coached and trained math teachers, and developed courses to help underrepresented students prepare for college.
Soto earned his doctorate in mathematics from the University of Iowa. He also holds two master's degrees: one in mathematics from Cal State San Bernardino and the other in education from UCLA, where he earned his bachelor's degree in general mathematics.
Why did you pursue the opportunity to join the Titan community?
The first thing that drew me to Cal State Fullerton were the students. Many of them remind me of me. I grew up in Southern California, and I was the first in my family to attend a four-year university. I was thirsty for knowledge. Knowing many of the obstacles that first-generation college students face, I want to be able to share my experience and give back to my community.
Moreover, CSUF's Mathematics Department is impressive, especially in the way that they care for their students' success. I wanted to be part of a department that truly places students first and foremost.
What do you most look forward to now that you're here?
I look forward to helping students discover their "path." It took me a long time to figure out that I wanted to be a mathematician, yet it has been a most rewarding experience. I hope to mentor students on their journey and work with them on research projects.
I also look forward to working with colleagues in creating a dynamic math department. We have some of the most forward-thinking educators, and I am excited about the prospect of helping all of our students prepare themselves for their careers and lives.
What areas of continued scholarship and research are of particular interest to you?
My research in mathematics is under the branch of representation theory. I study abstract mathematical objects and use their properties to "represent" them with objects that are a little bit more concrete to a mathematician. As a math educator, I am also interested in how the ideas I work with in my research can impact the professional development of K-12 math teachers.   
What are some of your outside activities, hobbies or interests?
I enjoy jogging, reading, watching movies and spending time with my family.