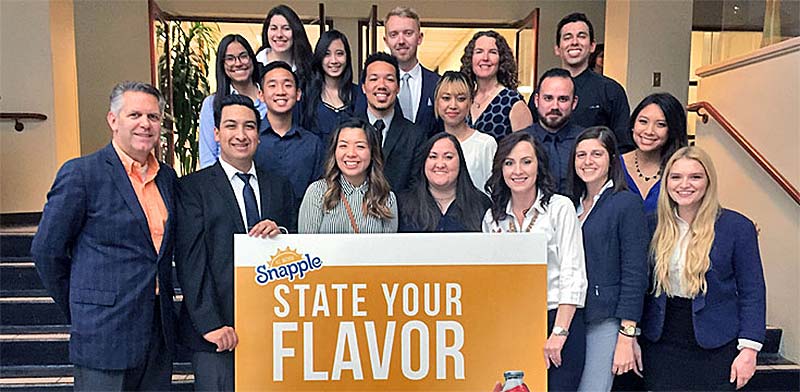 Seventeen communication majors, who began work in the fall on a Snapple advertising campaign, were rewarded this month when their plan and presentation took third place in a contest leading up to a national competition.
The group placed third of 10 teams in the April 1 regional challenge for the National American Advertising Federation and National Student Advertising Competition. The competitors included teams from USC, UCLA, UC San Diego, UNLV and Cal Poly Pomona. The winning team in each of the 15 districts and one wild card team will advance to the national-level American Advertising Federation conference in June.
The students interviewed to be "hired" for a class structured like an advertising agency and then took on roles as account executives, account planners, media planners, and creative and promotions team members. They conducted national research, including focus groups, online surveys, taste tests and video interviews. They also tested their concepts in several classes.
The "State Your Flavor" project included plans for a $50 million budget with nationwide events to showcase the 29 Snapple flavors and consumer trials. The team submitted its 27-page plan in March and then gave a 20-minute presentation April 1, during spring recess.
Keith Kesler, a communications lecturer, served as team adviser; Carolynn Coal, associate professor of communications, helped the team prepare for the competition.
The students will present the campaign at 3 p.m. Wednesday, April 20, in the Titan Student Union during Communications Week.