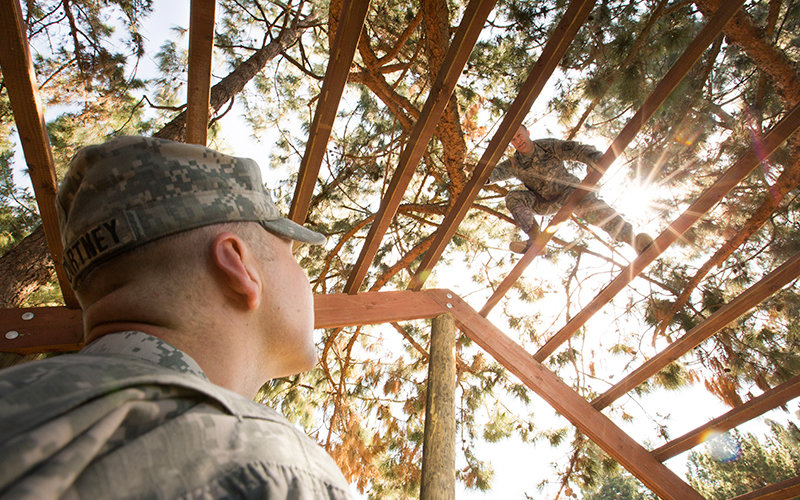 Cal State Fullerton's Army ROTC cadets now have an obstacle course of their own to challenge them physically and mentally on their path to future military careers.
The Roy Lopez Army ROTC Obstacle Course opened April 22 with a celebration attended by cadets, ROTC and campus leaders, retired military officers and veterans and community supporters.
"Once the ceremonial ribbon is cut, our ROTC program becomes one of only a handful of programs in California that can boast a military-grade obstacle course in its backyard," said Shari McMahan, deputy provost. "This course raises the prestige of our program and our entire University, and affirms Cal State Fullerton's commitment to the men and women in uniform and all students who aspire to serve their country."
Laurie Roades, dean of the College of Health and Human Development, which houses the Army ROTC program, and Lt. Col. Mark A. Waters, chair and professor of military science, were among those who delivered remarks.
The course is dedicated to ROTC cadet, the late Roy Lopez, whose mother, Adriana Mraz, donated $150,000 to build the campus obstacle course. Mraz thanked the military program's leaders and instructors for their support and dedication to students, including her son, and also for the idea to create the obstacle course in her son's memory.
"At a time where I suffered the greatest loss imaginable, you don't realize sometimes some of the blessings that are to follow," said Mraz. "My soul became intertwined with a brand new family … part of an Army family. The friendships that I've made within the program and the University are just incredible. I cannot find the proper words to explain the impact people have had on me and the opportunity to make a difference in somebody else's life."
Additional donations of $50,000 helped the college to complete the new course, located between the Titan Sports Complex and Fullerton Arboretum. The college is continuing to seek donations to establish an endowment.
The course, which took 18 months to complete, features 10 obstacles, such as the belly crawl, rope climb, balance log, 6-foot vertical wall and towering "The Tough One," where cadets must climb a 15-foot rope, then walk across slats, climb up a 15-foot ladder, crawl over a beam, then rappel down a cargo net. The course was designed to challenge cadets' strength and endurance in a fun and mentally engaging way, Waters said.
The Army ROTC program is expected to save $10,000 annually in costs, since previously the program had transported cadets to Camp Pendleton for training, said Waters. In the future, other University departments and local organizations can look forward to having access to the course.
Cadet Joshua Klee, a history major, is excited about having the course to help him train to build confidence and stamina. He's completed the course twice, and at the opening celebration, wowed visitors as he demonstrated "The Tough One."
"It's a good way to face your fears," Klee laughed. "It's a lot of fun."
Cadets Christine Yu, a health science major, and Susan Wagerer, a criminal justice major, also look forward to the challenge. "Having the course will give us a good opportunity to build teamwork — and courage," said Yu, who has not yet tried the course.
Wagerer has completed the course and admitted it's difficult: "It challenges you, but it also shows that you can get through any obstacle put in front of you."