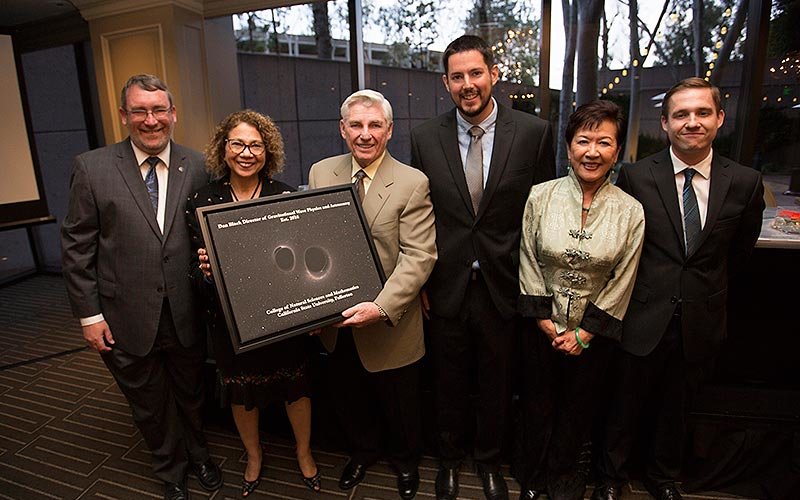 Longtime Cal State Fullerton supporter and physics alumnus Dan Black '67 has once again given back to his alma mater to establish the first named directorship in the College of Natural Sciences and Mathematics.
Black is funding a three-year naming gift for the creation of the Dan Black Director of the Gravitational-Wave Physics and Astronomy Center with a gift of $225,000.
Black's gift was announced April 7 at the "Gravitational Waves: Examining the Universe in a Whole New Way" event at the Center Club in Costa Mesa, attended by CSUF donors, faculty, administrators, students and other University supporters.
President Mildred García welcomed guests, praising and thanking the Titan scientists for their key roles in the discovery of the first direct detection of gravitational waves, and their mentorship of students.
"Our faculty are working with undergraduate students to be the next scientists," said García. "They are taking young people and showing them the marvels of what they do."
CSUF scientists Joshua Smith, associate professor of physics; Jocelyn Read and Geoffrey Lovelace, both assistant professors of physics; and Alfonso Agnew, professor of mathematics, shared how their research efforts contributed to the discovery, announced Feb. 11 by the National Science Foundation and LIGO Scientific Collaboration. The researchers are part of the LIGO collaboration, a group of more than 1,000 scientists from universities around the United States and in 14 other countries.
Smith will serve as the inaugural Dan Black Director. "It's a huge honor for me," Smith said. "I look forward to leading the Gravitational-Wave Physics and Astronomy Center as we continue to explore this new frontier of astronomy with our collaborators across the globe."
The Gravitational-Wave Physics and Astronomy Center opened in fall 2012 and serves as the hub for faculty-student research activities related to the discovery. The center supports gravitational-wave research, education and outreach in gravitational-wave astronomy, physics and astrophysics.
Working alongside the center's faculty mentors, scores of students have had the opportunity to work on this groundbreaking research, enhance their scientific and computing skills, present at national conferences, co-author peer-reviewed journal articles and pursue doctorates.
Black's support will be used to advance the center's research, teaching and outreach, Smith added.
"We're going to use the funds to involve more undergraduates in research activities, and for the first time, hire a postdoctoral scholar who will be a strong mentor to students and also contribute to faculty research on what is expected to be many more gravitational-wave discoveries to come," Smith said.
Black, a successful entrepreneur, is a major University donor who started giving in 1998 and has since contributed to various programs and initiatives across campus, including the Dan Black Physics-Business Program, Cal State DC Scholars Program and Center for Oral and Public History. The Dan Black Hall science laboratory building also is named in his honor, thanks to his $4.2 million gift in 2006.
"It's an honor," Black said, to support the physics faculty, students and the "phenomenal" work of the Gravitational-Wave Physics and Astronomy Center. "I want to help students. When they go on to get doctorates or go into industry, it's just so rewarding that I can play a small part in their lives."