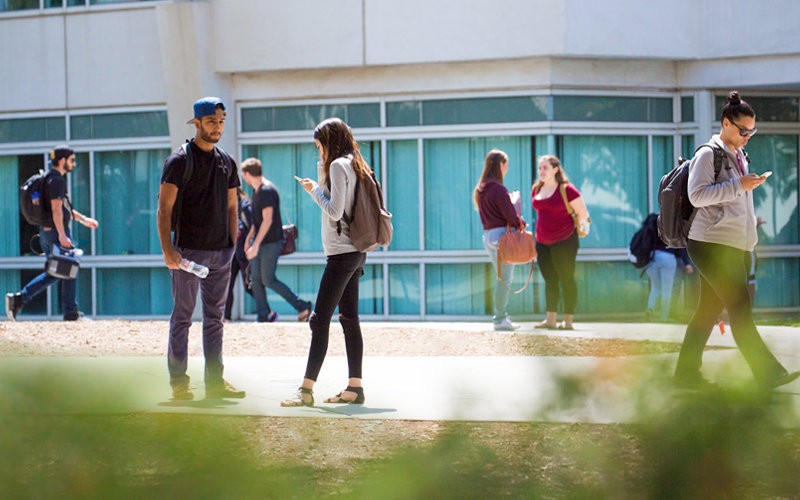 Update: Watch video of the day's discussions, read the Southern California Public Radio story and hear the "Take Two" broadcasts on KPCC-FM 89.3, here.
Step up to the mic, millennials.
KPCC's "Take Two" visits Cal State Fullerton, Thursday, April 21, for a live discussion with Titans who are "redefining the American Dream."
Students of all majors are invited to attend the 11:30 a.m. to 1:30 p.m. free discussion in the Titan Student Union to tackle politics, activism, love and careers. The event is one of several talks, panels and activities scheduled in the annual, student-planned communications conference — Communications Week.
Millennials — born between 1980 and 2000 — outnumber baby boomers by 8 million. More than 83 million millennials live in the United States, and "Take Two" host A Martínez wants to hear from those in this often-misunderstood generation that's one of the healthiest, most educated and most diverse in our country's history.
Joanne Griffith, "Take Two" editor, said the show chose CSUF for its campuswide diversity and is eager to speak directly with students.
"With this event at Cal State Fullerton we want to expand on this conversation — busting millennial myths, looking at issues around housing, education, living up to the expectations of parents, political engagement, activism and love; millennial dating is quite different to that of mom and dad," she said.
The show will host a Twitter chat during the discussion and wants to hear from the audience.
"This isn't just about "Take Two" talking to millennials, it's very much a show to showcase the thoughts, opinions and minds of millennials — the people who will shape the future of Southern California and beyond," Griffith said.
Also participating in the discussion are: Sarah Hill, associate professor of political science; Kelsey Brewer, CSUF political science major and a student trustee for the 23-campus California State University system; and John Jackson, director of CSUF's Center for Entrepreneurship. 
Join the conversation, RSVP here.
Buzz about it using #MillennialMatters, and tweet us at:
@CSUF
@TakeTwo
@KPCCInPerson
Communications Week schedule posted here.
Media Contacts:
Cerise Valenzuela Metzger, 657-278-3708, cmetzger@fullerton.edu
Paula Selleck, 657-278-4856, pselleck@fullerton.edu