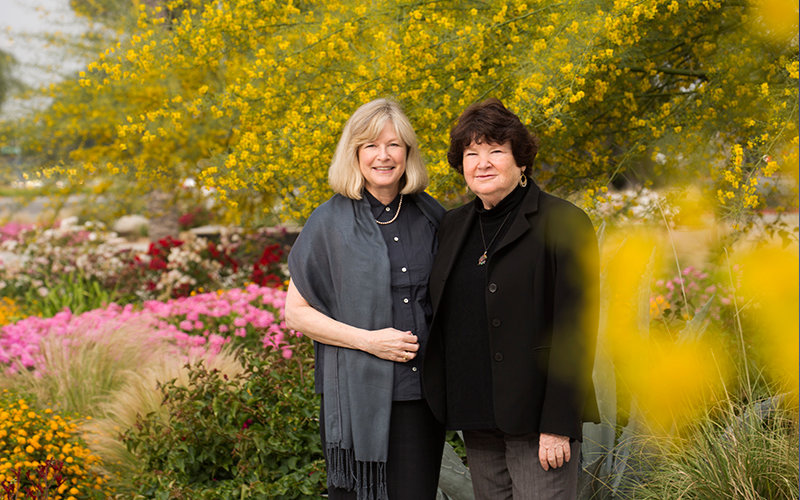 Terri Snyder and Leila Zenderland, both professors of American Studies, have been working on two studies reaching into seminal moments in history: the slave era and the period just before Adolf Hitler came to power.
National Endowment of the Humanities fellowships underwrote the research of the two scholars.
"Our projects had to be considered significant, original and compelling to be awarded NEH fellowships," said Snyder, whose study, "Marriage, Race and the Meaning of Freedom in Early America," delved into issues of American law, culture and family history before the American Revolution.
Snyder's project follows the families who blurred the line between enslavement and freedom in early America; families that often began when free women of color married enslaved men. "Because children took their status from their mothers in British North American, they would also be free," said Snyder, who followed those children from the late 17th century through about 1830.
"We know comparatively little about how people of color used the law in 17th- and 18th-centuries, when millions of Africans and their descendants were brought as slaves to the Americas," she explained. Her study explored how free people of color, particularly women, "developed highly instrumental legal strategies that aimed to protect the freedom of their families."
Snyder, who has already published two articles on the subject and is working on a book, added that the most unexpected and exciting aspect of the project occurred when descendants of the early American families that she studies contacted her.
Those contacts have since prompted her to take oral history training and she hopes to continue her research by conducting interviews with the descendants, in order "to record and get their sense of their family histories."
Similarly, Zenderland researched an educational experiment: the "Seminar on the Impact of Culture on Personality" held at Yale University throughout the 1932-33 school year.
"Social scientists from 13 different cultures — France, Italy, northern and southern Germany, Norway, Finland, Hungary, Poland, Turkey, India, China, Japan and Eastern European Jews — were invited to the United States in 1932 to take part in this yearlong seminar to study how their cultures shaped them," said Zenderland. "Most of them later became involved in the Second World War — on all sides."
The year these men spent studying together proved eventful, for in fall 1932, Franklin Delano Roosevelt was elected U.S. president, followed in spring 1933 when Adolph Hitler became Germany's chancellor, noted Zenderland. As part of her study, "Finding the 'Class of 1933': Studying Culture, Personality and Nationality in an Age of War," Zenderland traced the lives of all 13 of these social scientists to explain "how older ideas about the impact of culture on personality helped shape our modern ideas about the meaning of identity.
"Working together, these men asked big questions about how people were influenced by their cultures, such as 'What makes the French different from the Germans?'" explained Zenderland. The social scientists also examined the meanings attached to ethnicities, religions and races.
"These men spent a year together exploring these issues. Then each one returned home and was plunged into a different political context," Zenderland said. She is using the lives of these 13 social scientists to explore the broader history of the important concept of what we now call "identity."