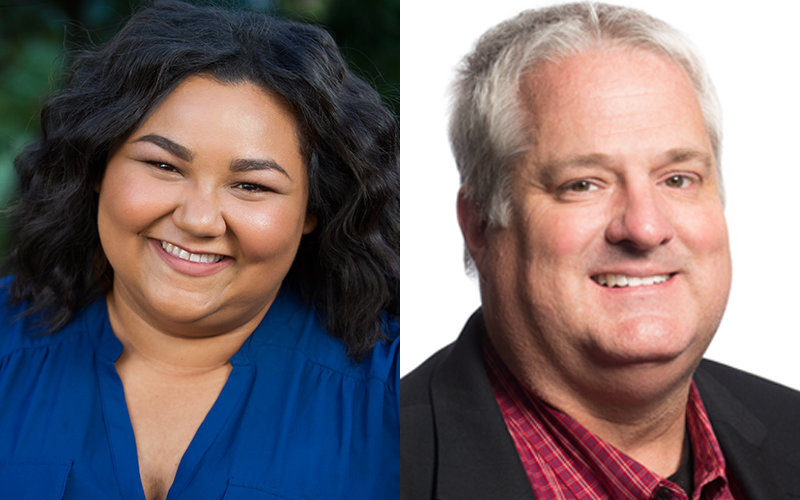 Recognized for their achievements in academics, community service and extracurricular activities, Cal State Fullerton students Kelsey Brewer and Rex Bartholomew are the recipients of the Alumni Association's 2016 Outstanding Senior and Outstanding Graduate Student awards.
Brewer is a senior political science major and contributes more than 100 hours of community service per month as an appointed trustee for the California State University Board of Trustees and vice chair for its government relations committee. During her time at CSUF, Brewer has served as chief governmental officer for Associated Students Inc., advocacy coordinator for the ASI Lobby Corps and a member of the University's Moot Court team.
"Kelsey Brewer truly embodies service to the University and has been dedicated beyond what I have seen from any other student," noted Sarah A. Hill, associate professor of political science. "She has sacrificed tremendously to maintain a strong academic record while serving her fellow students."
The award came as a surprise to Brewer, who explained that public service, student leadership and advocacy often go unrecognized.
"When I got the letter, I sat in my living room and thought it was a letter asking me to join the Alumni Association. I was like, 'Okay guys, I'm going to join. Calm down,'" Brewer said, laughing. "But it said congratulations, and I immediately started crying. For someone to recognize that I contributed to Cal State Fullerton in a meaningful way, validated all of those long, sleepless nights."
Brewer, who plans to pursue a career in higher education advocacy, hopes that one day she can repay the University for helping her find her passion in life.
"My grandmother always used to tell me, 'Those of us who get through the door have a responsibility to hold it open for people who are coming after us.' I've always really taken that to heart," shared Brewer. "Thank you to Cal State Fullerton. I hope to spend my life trying to pay back the opportunities I was given."
For graduate student Rex Bartholomew, receiving the award is a testament to the sacrifices his family has made so he could continue his education while working full time.
"It's really special to be recognized," said Bartholomew, who is graduating with a master of science degree in instructional design and technology (MSIDT). "I've never worked this hard on anything in my life and I consider myself a self-motivated person."
For years, Bartholomew had worked as a field technician in the automotive industry. When he had the opportunity to become an educational trainer at his company, he quickly realized "it's really what I should have been doing with my whole life. I love being able to help people learn."
Bartholomew's passion for helping others extends beyond the classroom to his community of Long Beach. He has volunteered his time with several organizations, including New City Public Schools, Intellectual Virtues Academy and Millikan High School. He also received the 2014 Humanitarian Award from the Power of World Leadership Foundation for raising funds to build a school in Nepal.
What attracted Bartholomew to Cal State Fullerton's 20-month MSIDT program was the caliber of its coursework and the convenience of taking classes online. While serving as co-captain of his cohort of 25 graduate students, he gained an appreciation for the power of distance learning.
"To me it was better than sitting in lectures and going to classes with 300 other people, where I might be afraid to talk. With online discussions, you feel like your voice is heard," he said. "You can build a strong online community if you're willing to put the effort into it."
His advice to those considering getting an advanced degree is not to wait. "I didn't know that it was going to be as attainable as it was," said Bartholomew. "If you're thinking about it, try to figure out how to make it work now."