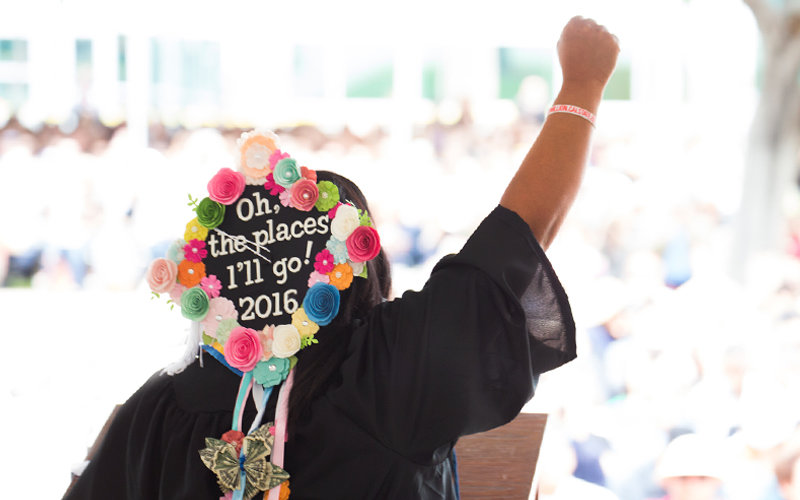 Cal State Fullerton's top graduating scholars and recent graduates will be recognized by the University Friday, May 20, on the eve of commencement ceremonies.
The program will begin at 7 p.m. Friday, May 20, in Meng Concert Hall of the University's Clayes Performing Arts Center.
Among the honorees to be recognized during the annual Honor's and Scholars program:
California State University Board of Trustees member and graduating political science major Kelsey Brewer of Fullerton is receiving the Alumni Association's Outstanding Senior Award. Brewer was named to a two-year appointment on the board in 2014 and has since served as the representative of the university system's 470,000 students. Prior to her appointment, Brewer served as chief governmental officer for Associated Students Inc. and advocacy coordinator for the ASI Lobby Corps. She was a member of the University's Moot Court team where she qualified for the national tournament and placed among the top 32 teams nationally.
Long Beach resident Rex Bartholomew, who will be graduating with a 4.0 GPA and an M.S. degree in instructional design and technology — an achievement he accomplished while working full time — is receiving the Alumni Association's Outstanding Graduate Student Award. He was recognized by the Power of World Leadership Foundation with the 2014 Humanitarian Award for volunteer efforts with fundraising for development of a school for children in Nepal. A member of the automotive industry, Bartholomew has served in a variety of ways, including developing test materials for ASE, the National Institute for Automotive Service Excellence, and as a judge for the Automotive Technology National Championships.
Sara Briley of Poway, is this year's recipient of the Giles T. Brown Outstanding Thesis Award. The 2015 M.S. in biology graduate is recognized for her thesis research, "Response of Eelgrass (Zostera marina) to an Adjacent Olympia Oyster Restoration Project." Briley has presented the results of the research before a number of organizations, including the Western Society of Naturalists and National Shellfisheries Association, and now serves as a marine restoration director for the nonprofit Orange County Coastkeeper.
The Osher Lifelong Learning Institute Betty Robertson Award recipient for 2016 is Susan Cane of Laguna Woods, who is completing her bachelor of science in psychology, cum laude, this year. She is a member of Phi Theta Kappa and Phi Chi international honor societies and has served as a peer mentor for the University Outreach Transfer Center. This fall, she plans to begin work on a master's degree in counseling with the ultimate goal of becoming a marriage and family therapist.
Karah Kirby of Monrovia, is receiving the Kenneth L. Goodhue-McWilliams Award in recognition of outstanding community service in the health professions. Kirby, who will graduate summa cum laude with a B.A. in psychology, is an active member of the University's Student Health Professions Association and University Honors Program. As her senior honors project, she studied family life in dual- and single-physician households and hopes to incorporate her passion for working with children as a volunteer in the Kare Youth League. Her goal is to become a pediatrician.
Matthew Siracusa of Vista and Justin Hamman of Yorba Linda, are the recipients of the Miles D. McCarthy Health Professions Scholarship. Both scholars are being recognized for their scholastic achievements and service to the community.
Siracusa, who graduated summa cum laude with a B.S. in biological science in 2014, will begin dental school next fall. He participated in research at the Howard Hughes Medical Institute and served as a Supplemental Instruction leader, providing educational assistance to fellow students.
Hamman '15 (B.S. biological science) graduated magna cum laude and has been accepted into medical school at the University of Arizona, Phoenix for the fall. He has participated in research on campus and served more than 300 hours shadowing health care professionals in various hospitals. Hamman has extensive volunteer service, including with the Compton Initiative and Rose Drive Friends Church.
Claudia Marquez of Los Angeles is the inaugural recipient of the Excellence in Promoting International Experiences and Global Engagement Award. Marquez is graduating with a B.F.A. in art-drawing and painting, as well as a bachelor's degree in art-art history. A McNair Scholar who spent 2014 studying in Florence, Italy, Marquez has been researching the impact of art and narrative inquiry on the self-esteem and resiliency of disenfranchised/homeless adolescents in Boyle Heights. She will begin graduate studies in marital and family therapy at Loyola Marymount University.
Media Contact:
Pamela McLaren, 657-278-4852