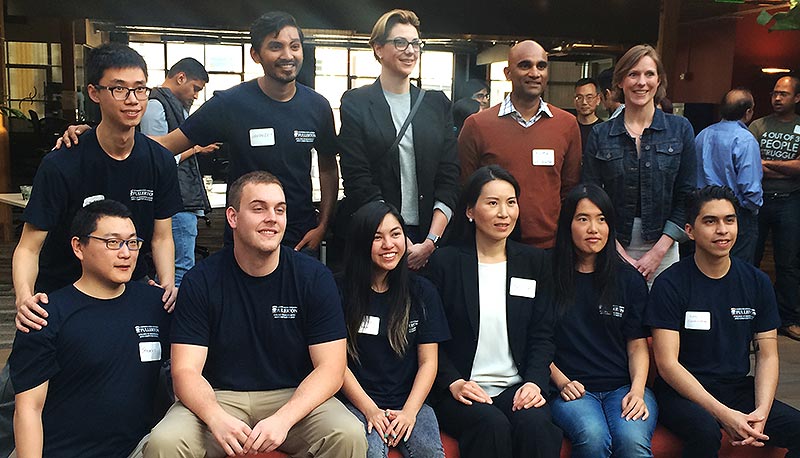 For their "Titan Power App," designed to reduce and manage energy consumption on campus, a team of Cal State Fullerton computing students won the $10,000 first prize in the inaugural GE/California State University Predix Innovation Challenge.
The Titan team also garnered a $2,500 prize in the most "green solution" (reduces environmental impact) category. Industry judges lauded their project for originality, good user experience and for having an immediate economic and environmental impact to better optimize energy consumption on campus.
For the challenge, student teams from five CSU campuses competed to develop and design apps for the digital age of industries. Students were challenged to build the most impactful applications for their campus — and planet — using GE's Predix software platform.
The competition was designed to spark the interest of young talent across the universities to develop environmentally and economically impactful apps. Their challenge was to build "Ecomagination Energy" apps to reduce water and energy consumption and promote recycling to cut costs of campus operations.
GE Digital, together with Ecomagination — GE's growth strategy to enhance resource productivity and reduce environmental impact — hosted the competition, where students pitched their projects to the panel of judges April 29 in San Francisco, near the company's headquarters.
Students received training on GE's Predix platform then had a month to design and develop their projects, in which they competed for scholarships — totaling $25,000 — and internships at GE Digital.
Titan team members are computer science undergraduates Luis Covarrubias, Shelley Pham, Joseph Porter and Yijie Sun; computer science graduate students, Bowen Tian and Yuting Zhang; and Harpreet Saini, computer engineering graduate student. Yun Tian, assistant professor of computer science, is the team's faculty adviser. Shawn Wang, professor of computer science, served as the faculty coordinator for the overall competition. Additionally, Matthew Pagano, CSUF's manager of energy and utilities, provided two years of data that helped make the app possible. 
"This win is an excellent example of diversity and teamwork. Our students have different backgrounds and skill sets, and they worked hard together to accomplish a common goal and a shared mission," said Wang.
The students agreed that they learned a lot about what it takes to work as a team to solve a real-world issue.
"This was my first time working on a software development project that needed true collaboration — to work as a team," said Covarrubias, a senior who plans to graduate next year. "There are always some disagreements, but when you have a good team, you always work out a better solution together."
The Titan Power App collects real-time data from the three sources that supply electricity for the CSUF campus: solar panels, the trigeneration plant and Southern California Edison. The app allows the campus to effectively track data for each energy source to help manage energy consumption, said Wang, adding that the app can be adapted to different university campuses.
"Our project used CSUF's power consumption data, and using GE's Predix, we came up with solutions that would better optimize our current facilities to save energy and money," explained Covarrubias. "I had never seen something like this done before, and it was not being done on our campus — so the team went for it."
The inspiration for the challenge came from CSUF alumnus Bill Ruh '83, '84 (B.S., M.S. computer science), GE Digital's chief executive officer, who was instrumental in creating this opportunity for CSU students. The digital industrial company also awarded CSUF a $150,000 grant to coordinate the competition.