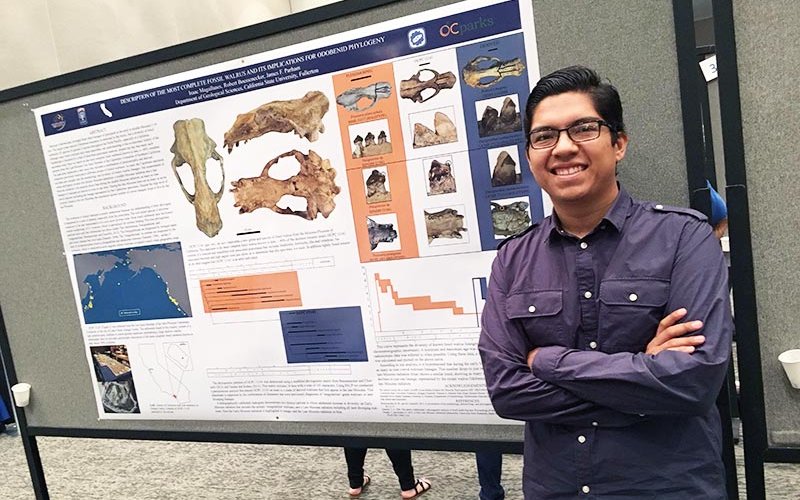 Cal State Fullerton geology students swept the outstanding student awards for posters presented during the 112th annual meeting of the Geological Society of America's Cordilleran Section April 4-6 in Ontario.
Senior Isaac Magallanes was awarded best undergraduate poster for "The Most Complete Fossil Walrus From Southern California Provides Insights on Patterns of Walrus Diversity Through Time."
Graduate student Gabriel-Philip Santos was awarded best graduate poster for "Description of the Sedimentology and Taphonomy of the Late Uintan Talega Bonebed From Orange County, California."
Seniors Rebecca Steever and Katie Pickett (with graduate student Nancy Chen) received the undergraduate runner-up award for their poster "Evaluating a Potential Connection Between the Late Jurassic-Early Cretaceous Osa Creek Ring Complex and the Blackrock Andesite, Southern Sierra Nevada, CA."
Nearly 50 Cal State Fullerton undergraduate and graduate students, faculty members and alumni presented work at this year's meeting.
"Doing research, especially as an undergraduate student, that is worthy of publication and presentation at a conference such as this is the pinnacle of high-impact practice," said Phil Armstrong, chair and professor of geological sciences.