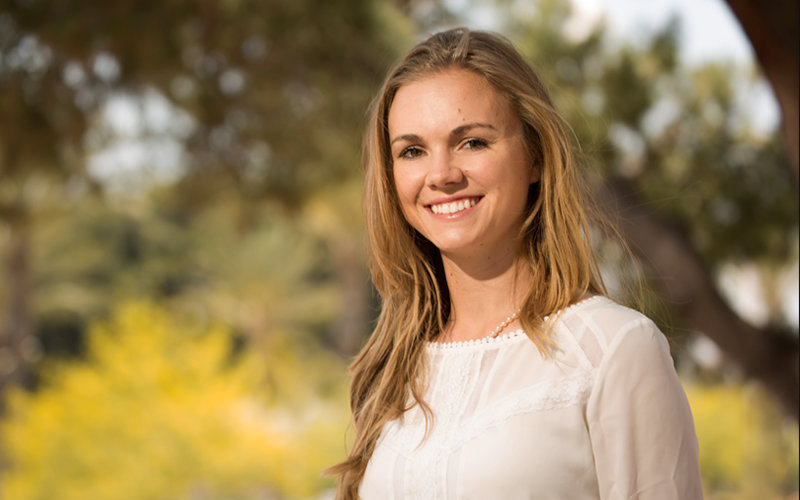 Naturally curious about science and how the human body works, Cal State Fullerton psychology major Karah Kirby was at first hesitant to pursue a career as a physician. She used her senior honors project to better understand how she could balance her family and professional life.
"My research encouraged me that I can have a family and be a physician as well," said Kirby, whose boyfriend is beginning medical school in the fall. "I discovered that there are many potential benefits to having two physicians in a family, such as better communication, empathy and equal involvement in children's lives."
With new resolve, the University Honors student set her sights on gaining experience in the medical field. Volunteering at Methodist Hospital and Restore Orthopedics and Spine Center, Kirby provided assistance to emergency room professionals and shadowed an orthopedic surgeon — both experiences affirming her desire to become a doctor.
On campus, Kirby was an active member of the Student Health Professions Association, participating in activities ranging from Red Cross blood drives to the Central County Health Expo. She also volunteers up to 20 hours a week, coaching youth sports and tutoring junior high school students in math and science.
"It's been a great experience to be an active member in the community and to be able to give back," said Kirby, who graduated summa cum laude on May 22 and aspires to become a pediatrician. "I hope that someday I am able to continue helping people as a physician."
For her outstanding community service in the health professions, Kirby is the 2016 recipient of Cal State Fullerton's Kenneth L. Goodhue-McWilliams Award, a scholarship founded by an emeritus professor of biological science who served the campus for 33 years.
"I feel humbled and honored to win the award," said Kirby, who also appreciates the opportunity she had to meet the late professor's wife, Nancy Goodhue-McWilliams. "She encouraged me to work hard and never give up."
In fact, the power of hard work is one of the most important lessons Kirby learned during her time at Cal State Fullerton.
"There are so many people who are much smarter than I am," she said, "But I've learned that if you work hard, you can do anything."