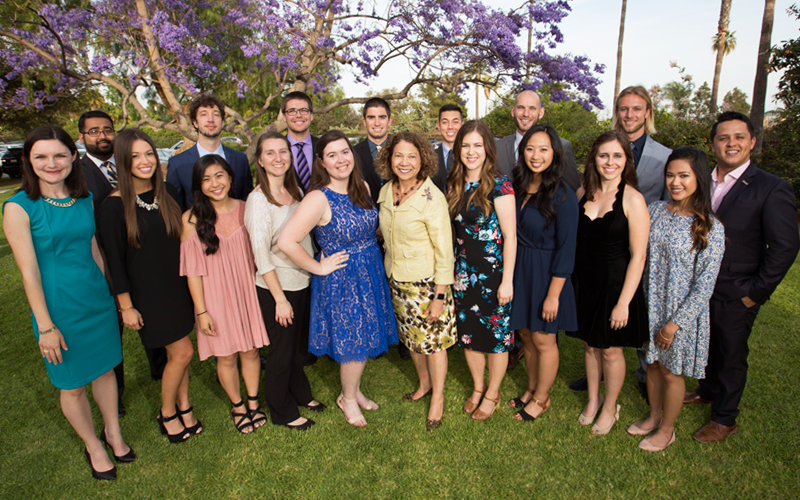 Cal State Fullerton celebrated the upcoming graduation of 20 of its President's Scholars during a special ceremony held Tuesday, May 3. The graduates are continuing a tradition that began 36 years ago when the University began the merit-based program.
In commending the graduating class, President Mildred García highlighted the 2,144 hours of community service they performed this year and their near 100 percent involvement in student organizations. They averaged 16 units per semester with an average 3.84 GPA. "When we say, 'Titans Reach Higher,' the bar we're aiming for is set by our President's Scholars," said García.
President's Scholars spend up to four years in a comprehensive, rigorous program that offers experiences and opportunities in academics, leadership, service and mentorship.
"Being a President's Scholar gave me the permission and confidence to shoot for my dreams," said Victoria Gould, who will begin as a production assistant at DreamWorks this May. "Because they trust you, you trust yourself. It wasn't until I was in the program that I truly began to see myself as a leader in my field and in the community."
Gould's sentiments were echoed by other scholars at the reception.
"It's not that difficult to go to class and do as you're told. The hard part is making it stand for something – making your time meaningful and something you can be proud of," shared Armando Robles, one of six graduating President's Veteran Scholars. Robles served as chair of the Associated Students Inc. Board of Directors during his time at CSUF and plans to pursue a doctorate in political science.
"Because of the President's Scholars program, I was able to attend this incredible university," said Nicholle "Nikki" Knapp, who will begin the master's in English program at CSUF this fall. Then to her fellow graduating seniors, she challenged, "When you leave this university and go into the world, do not go quietly. Our world needs people like you who want to make a difference."
Members of the 2016 graduating class of President's Scholars are:
Zachary Bryan of Murrieta, B.A. business administration-finance
Victoria Gould of Irvine, B.F.A. art-entertainment art/animation
Chris Harraka of Yorba Linda, B.A. business administration-finance, summa cum laude
Nicholle Knapp of Fullerton, B.A. English, summa cum laude
Gabrielle Martinez of Garden Grove, B.S. mechanical engineering, magna cum laude
Jacquelyn Moffitt of Mission Viejo, B.A. psychology, summa cum laude
Mandy Nguyen of Yorba Linda, B.S. biological science, summa cum laude
Monica Nguyen of Yorba Linda, B.S. kinesiology, summa cum laude
Candice Punzalan of Stockton, B.A. business administration-accounting
Tarlochan Rakhra of Yorba Linda, B.A. business administration-finance, cum laude
Coral Roseberry of Fullerton, B.S. nursing, magna cum laude
Kelsey Elizabeth Smith of Riverside, B.A. theatre arts, magna cum laude
Wyatt Walsh of Twin Peaks, B.S. mechanical engineering
Jeremy Wilson of Anaheim, B.A. mathematics-teaching mathematics, cum laude
Graduating President's Veteran Scholars are:
Jason Boggs of Costa Mesa, B.A. business administration-information systems, magna cum laude
Daniel Duccini of Fullerton, B.A. business administration-finance
Timothy Hendricks of Azusa, B.A. business administration-entrepreneurship, cum laude
Armando Robles of Indio, B.A. political science
January graduate Jackson Sanfacon of Murrieta, B.A. economics, cum laude
Ryan Smith of Fullerton, B.A. business administration-finance
Cal State Fullerton's commencement celebrations will take place May 21-22.