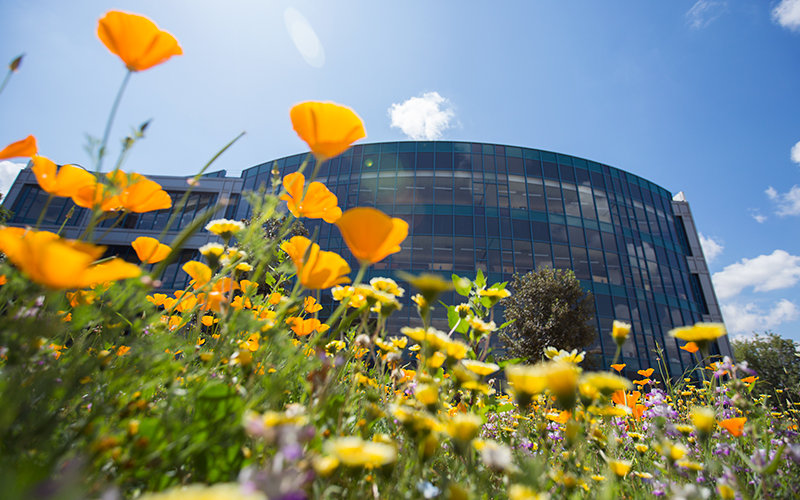 More than 170 presenters will discuss best practices in a wide range of sustainable and green projects ranging from construction, lighting and energy during the 15th annual California Higher Education Sustainability Conference June 27-June 30 at Cal State Fullerton.
This year's event, themed "Living Laboratory: Turning Ideas Into Action," stresses the importance of reaching out to students, increasing their awareness, knowledge and involvement in sustainability so that it becomes a part of the campus culture. Discussions will include curriculum development, operational programming and community partnerships.
Keynote speakers are:
Former California Secretary of Agriculture A.G. Kawamura of Orange County Produce, a family–run producer and shipper of locally grown produce. Kawamura is co-chair of Solutions From the Land and serves on the boards of Agriculture and Natural Resources, a policy arm of the National Academy of Sciences' Natural Resource Council, and the Western Growers Association. 
Environmental journalist Marla Cone, senior editor/environment at National Geographic and author of "Silent Snow: The Slow Poisoning of the Arctic" — a finalist for the National Academies' Communication Award. During her 30 years in journalism, Cone was  senior environmental writer with the Los Angeles Times, editor-in-chief of Environmental Health News and has written for Scientific American.
"The sharing of best practices helps us get closer to finding solutions for climate change-related problems and through those solutions show that faculty, staff and students can make a difference," says Willem van der Pol, interim associate vice president for facilities planning and management. "Through the sharing of information, we all can make better informed decisions about our studies, our careers, our campuses."
"It is wonderful to have this conference here at Cal State Fullerton where our focus has long been on developing and utilizing practices that are efficient and green," added van der Pol. "Such events create momentum and an excitement that drives us all to do more.
Cal State Fullerton has built a 20-year history of instituting efficient, sustainable and green practices that save money and better the campus community. Examples range from lighting upgrades to green building construction and installation of solar panels. CSUF also will be among those campuses honored for energy and sustainability during the conference.
In addition to University and college speakers, presentations will be made by:
Tyson Eckerle, deputy director of zero emission vehicle infrastructure, Governor's Office of Business and Economic Development
Wayne King, Los Angeles Clean Cities Coalition Coordinator, environmental specialist, city of Los Angeles
 Ann McCormick, founding principal of Newcomb Anderson McCormick, a San Francisco-based energy engineering and management consulting firm, and a member of the board of directors of the California Energy Efficiency Industry Council
Dale Sartor, staff scientist and engineer, Environmental Energies Technologies Division, Lawrence Berkeley National Laboratory
Glen Bennett, general manager, Aqua Cents Water Management, and president of the San Joaquin Valley chapter of the California Landscape Contractors Association
Grace Junge, energy engineering, EnerNOC Inc., a provider of cloud-based energy intelligence software
Andrew deCoriolis, director of strategic projects and engagement, Farm Forward
Richard Young, director of education, workforce education and training, PG&E Food Service Technology Center
 
Details about the conference programming can be found online. Registration for the conference as an attendee, exhibitor or sponsor is still available online.
Since 2002, the conference has provided a venue for discussions about sustainability for attendees from the University of California, California State University, California Community Colleges and private universities throughout the state.
For more information, contact Tamara Wallace, CSUF sustainability projects coordinator, 657-278-2080; or Katie Maynard, CHESC executive director, 805-448-5111.