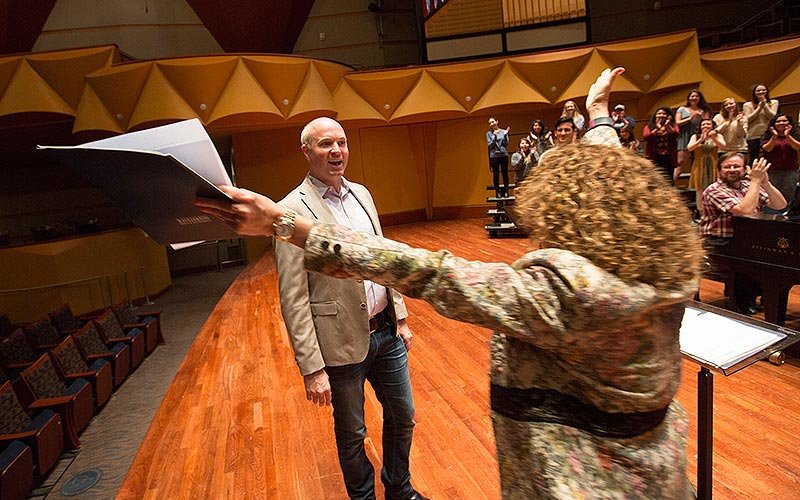 A chorus of cheers and applause filled Meng Concert Hall Wednesday, May 11, as Cal State Fullerton President Mildred García announced to the University's volunteer women's choir members and their conductor, Robert Istad, that he had won the year's Outstanding Professor Award.
"You and your singers have placed Cal State Fullerton on the map. And he's an alum!" exclaimed García, praising the professor of music and choral studies director's commitment to high-impact practices and constant high marks from his students. "He is an example of a Titan who reaches higher."  
Istad, a tireless advocate of music and the arts, oversees the administration of the School of Music's major choral ensembles: the CSUF University Singers, Concert Choir, Women's Chorus, Men's Chorus and Jazz Singers. He also teaches choral conducting and choral literature.
"I feel incredibly honored and humbled that my colleagues would nominate me and recognize me. Teaching is my life's passion and of course, it feels good to be recognized, but there's so many of us on this campus that give our all every day," said a surprised Istad.
The Outstanding Professor Award recognizes a faculty member with a record of superlative teaching and scholarship that also contributes to the stature of the University and the California State University system.
"There are hundreds and hundreds of colleagues on this campus that are superb teachers," added the music professor. "We have a very special student body at Cal State Fullerton, and it's wonderful that the University recognizes teaching. I wish that I could share the recognition with all of my colleagues in the College of the Arts and beyond."
"Our students love to sing for Rob Istad," said Marc Dickey, professor and director of Cal State Fullerton's School of Music. "His relationship with them as a mentor, as a fellow musician, brings out their very best efforts."
By all accounts, the caliber of Cal State Fullerton's choral program is due, in great part, to Istad's commitment to his students, mastery in choral conducting and excellence in teaching.
"He has rejuvenated our graduate program in choral conducting, another level of mentorship and leadership in our choral program," added Dickey. "Istad goes out of his way to give his students very rich learning and performance opportunities and in the process, has led the CSUF choral program to rise to become one of the very best in the nation."
After receiving his bachelor's degree in vocal music performance at Augustana College, he earned a master of music in choral conducting at Cal State Fullerton, followed by a doctor of musical arts, choral music and conducting from the University of Southern California.
"It was an honor for me to present him the department's choral award [the department's highest award] when he graduated with this D.M.A. in 2006," said William Dehning, professor emeritus of music, who was Istad's primary conducting and choral music professor at USC. "Dr. Istad has exhibited the ability to produce some of the finest choruses in California, having performed twice at Divisional American Choral Directors Association conferences and once at ACDA National in Dallas.
"Dr. Istad excels at recruitment," stated Dehning. "He routinely tours with his ensembles and is always on the road conducting festivals, honor choirs, judging festivals and serving as clinician for choirs all over the state of California. In doing so, he is able to educate Californians, especially the high school choral directors and their students, as to the wonderful things happening at CSUF."
Marie Bucoy-Calavan, the University of Akron's director of choral studies, was Istad's first graduate student. "During this time, Istad took me under his wing and provided me experiential learning on how to grow and foster a thriving collegiate choral program. He gave me conducting and leadership opportunities that are rare among graduate choral conducting programs throughout the country," she explained. "… Istad's fine instruction does not only affect the CSUF student population, but [also] his legacy has direct impact on a choral program and student community two thousand miles away."
Music performance graduate student Jason Pano credits him with helping him seek different methods and strategies to hone his conducting abilities. "He embodies the skills and professionalism to shape each of his students into the best musician they can be," he said, adding that he and his fellow students have many opportunities to perform with various symphonies and chorales, making a note of "his commitment to training high-level musicians to move into professional careers and his tireless work to provide opportunities for his students.
"Dr. Istad values giving his students a balanced education in the choices of repertoire and projects," added Pano.
Under Istad's direction, the University Singers ensemble has been invited repeatedly to perform with prominent professional ensembles, including the Los Angeles Philharmonic and the Pacific Symphony, and at venues such as Carnegie Hall and the Hollywood Bowl.
The professor is in very high demand as a choral instructor and clinician and is actively involved in the development of community-based programs in choral music. He is president elect of the California Chapter of the American Choral Directors Association and artistic director of the Long Beach Camerata Singers and the Long Beach Bach Festival. He is also artistic director designate for Pacific Chorale and will take over the choral organization in 2017, when current artistic director John Alexander steps down. Istad also succeeded Alexander at CSUF as director of the choral studies program.
"Istad has indeed created a program at CSUF that is exceptional," said Alexander.
"The University Singers, under Istad's direction, has become arguably the finest collegiate ensemble in the western United States," added Alexander. "This is evident in the fact that they were the only Western U.S. university vocal ensemble invited to appear in 2014 at the national convention of the American Choral Directors Association in Dallas, Texas.… This simply does not happen without a creative and inspiring teacher such as Dr. Istad."
Next up on Istad's roster: a performance with the University Symphony Orchestra and Symphonic Chorus at 8 p.m. Saturday, May 14, at Meng Concert Hall; conducting Handel's "Israel in Egypt" this summer with the Santa Rosa Symphony at the Berkshire Choral Festival; traveling with the Pacific Chorale to Hungary and Austria; and teaching three master classes.