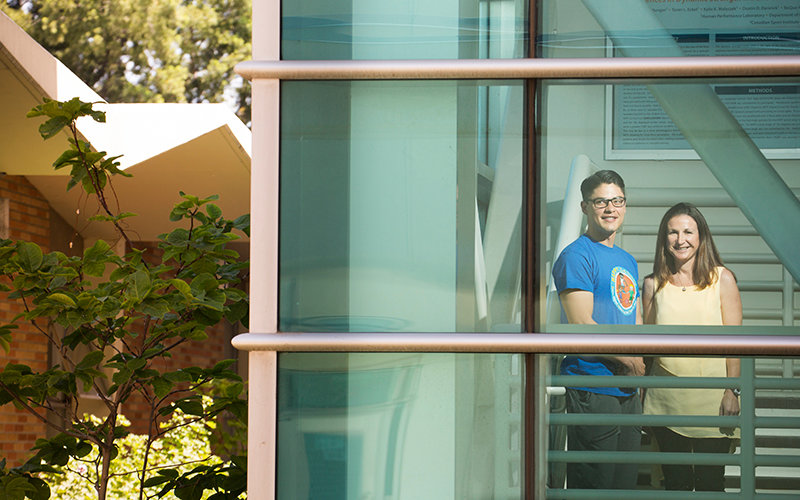 For Daniela Rubin and her team of faculty and student researchers, their goal is to help children with a rare and complex genetic disorder live happier and healthier lives.
Over the past eight years, the associate professor of kinesiology has been leading Cal State Fullerton's federally funded research program on Prader-Willi Syndrome (PWS) and childhood obesity. PWS can lead to abnormally high levels of body fat resulting in life-threatening obesity and poses challenges to being physically active.
Rubin, her faculty collaborators in kinesiology and health science, students and colleagues at the University of Florida and CHOC Children's have conducted several obesity-related studies on children with and without Prader-Willi Syndrome. Their research projects have focused on such areas as evaluating hormonal and metabolic effects of exercise and movement difficulties, as well as whether a home-based, parent-led physical activity program improves the motor proficiency of children with PWS. A similar parent-guided physical activity program also was investigated in children without PWS, but with obesity.
Her latest research, "Family-Based Exercise Intervention for Children and Adolescents With Prader-Willi Syndrome," focused on 116 individuals ages 8-15, including children with obesity and children with PWS. Children with PWS disorder often have poor stamina, coordination and balance, Rubin explained. In the recent study, youth were enrolled in the 24-week "Active Play at Home" program.
While all of the children benefitted from the parent-led physical activity curriculum Rubin and her team developed, those with PWS showed significant improvements in strength and agility, as well as movement skills requiring body coordination, Rubin said.
"Our goal is to increase the quality of life for these children by increasing their physical activity," said Rubin. "Children with Prader-Willi Syndrome can thrive and live a full life if they have good management with growth hormone and nutrition therapy, and a regular physical activity routine."
Given the program's positive acceptance by parents and youth involved and dearth of existing research, Rubin and her team launched a pilot study earlier this year focusing on children ages 4 to 7. The effectiveness of the 12-week Home-Based Active Play for Parents and Youth program, known as HAPPY-Early Discoveries, is being evaluated in children with and without PWS. The researchers are recruiting children with and without PWS and their families for the study, which will continue through the summer.
"We hope to learn more about why there are motor skill deficits in children with Prader-Willi Syndrome and whether implementing a parent-guided physical activity intervention at a younger age will improve balance and movement skills," said Rubin, whose areas of expertise include exercise endocrinology and physical activity participation in youth.
Such programs include a physical activity curriculum, training sessions for parents and children, age-appropriate games and exercises and equipment — provided at no cost to participating families. A "HAPPY" physical activity video is being produced with activities suitable for families with children ages 8 to 11.
Senior Adam Hyde, who has set his sights on becoming a physician and joined the research team two years ago to help prepare for medical school, is among students involved in the studies. He is on track to graduate in May with his bachelor's degree in kinesiology and minors in chemistry and pre-health professions.
"It's very rewarding to observe firsthand the positive impact our work is having on the children," said Hyde. "I hope to contribute enough knowledge with our research to help clinicians and doctors improve the quality of life of children with Prader-Willi Syndrome."
For more information about research related to Prader-Willi Syndrome, childhood obesity and physical activity or to participate in the HAPPY-Early Discoveries study, visit the website or call 657-278-8737.