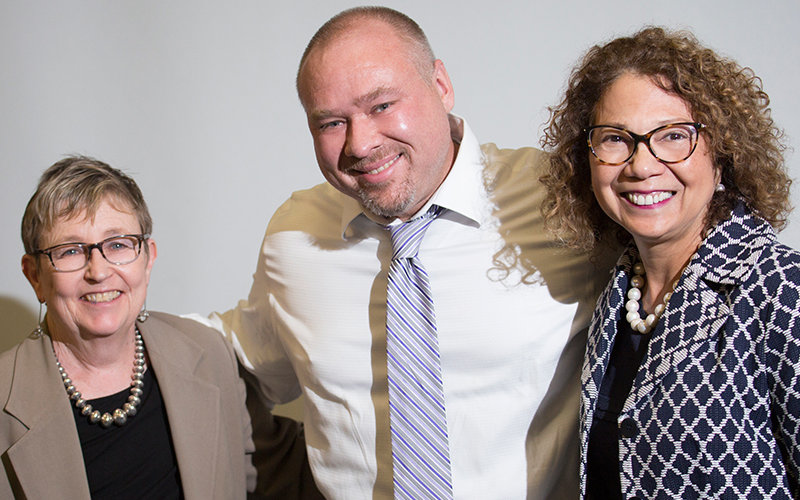 Jason Shepard, department chair and associate professor of communications, is this year's recipient of the Faculty Leadership in Collegial Governance Award.
President Mildred Garcia announced the award at today's (May 12)  Academic Senate meeting, noting that under Shepard's leadership, the department has been "transformed" by the addition of new faculty members, as well as strategic and division plans.
Colleagues credit Shepard with strengthening the foundation of the Communications Department and significantly altering its trajectory since his election to chair in 2014.
"Dr. Shepard has met and exceeded all expectations for demonstrating courageous leadership and forward thinking," wrote Douglas Swanson, professor of communications, in a letter nominating Shepard.
"At a department faculty retreat (in August 2015), Dr. Ed Trotter publicly recognized Dr. Shepard as the most eloquent, capable and effective department chair Trotter has worked with in 40 years at Cal State Fullerton," Swanson wrote.
Immediately after taking the helm, Shepard was undaunted by an accreditation self-study and coordinating campus visits for accreditation and certification. His inclusive and effective decision making earned him the Leadership Award presented during the University's 2015 Annual Awards program.
He helped the student newspaper, the Daily Titan, through a financial crisis by initiating new accounting and budget management practices, and his departmental leadership unified a large faculty.
"Turning this department around in one year has required maturity, intelligence and an undying commitment to collegial governance," Bonnie Stewart, lecturer and adviser for the Daily Titan, stated in a letter supporting Shepard's nomination for the award.
"I am honored and humbled to receive the Leadership in Collegial Governance Award," Shepard said. "I really believe the Department of Communications is one of the best academic units of its kind in the country, and this award is yet another indicator that we're on a positive path forward."
Shepard earned his bachelor's and master's degrees as well as a doctorate from the University of Wisconsin, Madison, and a master of science degree from Pace University. He spent a decade as a journalist in Wisconsin and also taught for three years in New York City as a Teach for America corps member.
Since joining the CSUF faculty in 2009, he has served as an adviser to the Daily Titan, vice chair and chair of the curriculum and elections committees, and faculty parliamentarian. He also served on the University curriculum committee, and the Queer Studies faculty advisory panel, and sought training through the CSUF Academic Leadership Institute.
After his first year as chair, he invited faculty, staff and administrators to review his performance in an anonymous survey. About 90 percent of the respondents were "extremely" or "very" satisfied and 86 percent said his impact on the department environment was "extremely" or "quite" positive.
His actions show he remains focused on the department's and students' future, say colleagues.
"Since the day he arrived at CSUF, Jason has consistently exhibited a positive, optimistic outlook, a strong work ethic, and an underlying dedication to doing whatever is needed for his students and for the Department of Communications," noted Andi Stein, professor of communications. "Faculty in the department can clearly see how dedicated he is and how hard he works to make the department the workplace we can be proud of, just as he promised."