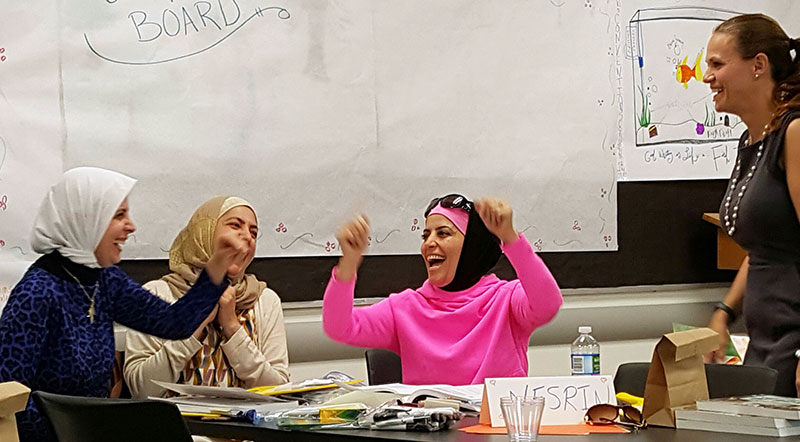 Samar Katbi traveled to Turkey and witnessed the need to train teachers to educate Syrian children who are refugees of war.
"These families fled their homeland and lost everything because of war," said Katbi of Irvine, who came to the U.S. nearly 20 years ago from Syria. "These children have no access to Turkey's schools — kids are left without education."
Cal State Fullerton's Ding-Jo H. Currie stepped in to help after learning about the plight of the Syrian children at a monthly interfaith meeting she hosts in her home.
Katbi, a former third-grade teacher and principal who founded Minaret Academy, an Islamic school in Anaheim, and Maria Khani, founder of "A Country Called Syria," a traveling exhibit of artifacts from Syrian culture, were seeking assistance in training local Syrian American women volunteering to help Syrian refugees in Turkey, Lebanon and Jordan this summer.
The volunteers plan to offer instruction to teachers working with children affected by war and displacement. People have been fleeing Syria since 2011, due to the civil war, many living as refugees in Middle Eastern countries. As a result, millions of Syrian children are not attending school.
"The children and teachers are facing trauma and family loss, and learning has been a challenge, due to the lack of teachers and psychological adjustments," said Currie, a former chancellor of Coast Community College District who now teaches in the University's Educational Leadership Department. "My question was, 'What can we do to help?'"
Currie turned to colleagues Lisa Kirtman, associate dean of the College of Education, and Christine Mayfield and Kristine Quinn, both lecturers in elementary and bilingual education, who offered their support. Mayfield and Quinn volunteered to develop an arts-focused curriculum to teach the women — who were educators and professionals in their homeland.
"We both teach the social studies methods course in the multiple-subject credential program and encourage our students to become active global citizens," said Quinn. "We're always trying to model the goals we set for our students. In a small way, we are working locally to act globally. We cannot ignore what is happening around the world, especially when it's affecting children in such profound ways. In war, children are always the largest victims."
A two-day, teacher-training workshop was held recently for the Syrian American volunteers, including Katbi. They learned teaching strategies, techniques and insights on how they can assist teachers in refugee camps. The curriculum focuses on such topics as creating safe learning spaces, student-centered engagement in classrooms and using art to facilitate expressions of emotions.
"We developed an arts-based approach because art is universal across cultures — and art heals," Mayfield said. "We also wanted to include lessons on how teachers can create a safe environment, where children can learn, exchange ideas, begin to trust again and feel a sense of normalcy without fear."
Organizing the workshop was a way to give back to the community on a global scale and foster building interfaith bridges of understanding, tolerance and acceptance, Currie said.
"This is an example of showing our Titan spirit — our passion of service, of connecting the world and demonstrating through action how we are a humanity of one," she added.