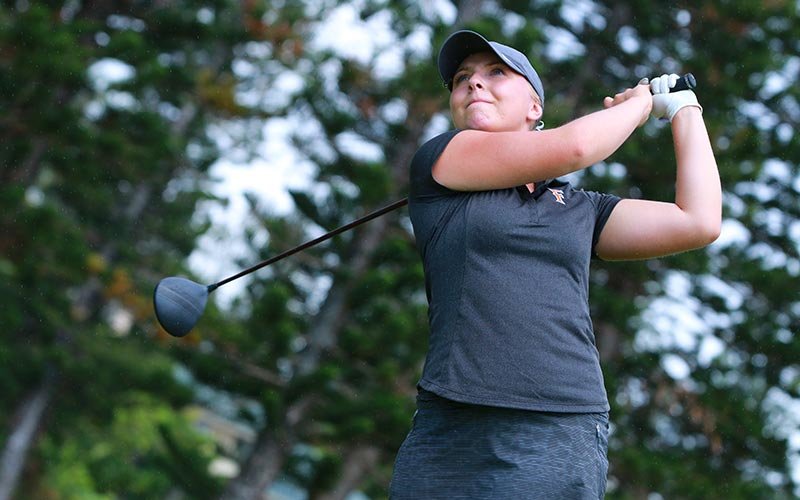 Growing up in Sweden with a family-owned hotel and golf course in her backyard, Cal State Fullerton junior Martina Edberg never imagined the sport would become her passion.
She originally dreamed of becoming a gymnast and then a diver, but experienced physical issues with her hip, knees and ears. Undeterred, Edberg began seeking other ways to stay active. "I said to myself, 'If my grandma can play golf, I can play golf' and started to play for fun," said Edberg. "I started getting better at it and just kept going."
After golfing for just five years, Edberg decided to research schools where she could play competitively. Stepping onto Cal State Fullerton's sunny campus for the first time, she knew this was where she wanted to spend her college years. Edberg received a full scholarship and will be the first in her family to complete an education beyond high school.
"I never pictured myself going to university," said Edberg, who is majoring in business administration with a concentration in finance. "But it's evolved to being a big part of my life. I like being in school and I like to learn new things."
As a student-athlete, each week, Edberg spends about 25 hours practicing golf, 15 hours attending classes and 20 hours studying. "Some weeks are really tough, but you can't think about it," she said. "You just do it."
Aspiring to play golf professionally, Edberg has consistently been a top player on the Titan team. A few of her accomplishments include being the first golfer in the University's history to win the Big West Conference Championship individual title in 2014 and posting a school record of 7-under 65 for a single round at the Cougar Cup in Pullman, Wash.
"I'm happy about my accomplishments, but I don't go around and think about it too much," she said. "That probably is one of the things I could work on – taking in what I've actually done instead of always trying to think about what's next."
For Edberg, she is most proud of attending the NCAA Regionals two years in a row, because the tournament reflects an entire season's worth of strong performance. She hopes to have another opportunity to advance to the NCAA Championships next season, falling short this year by just five strokes.
"I've never been afraid of failure," said Edberg. "Of course it really hurts when it happens, but there's always, always something to learn from it and it makes you a better human being."
Edberg will spend the summer in Sweden, playing for the Swedish National Golf Team and competing in the European Ladies' Amateur Championship.