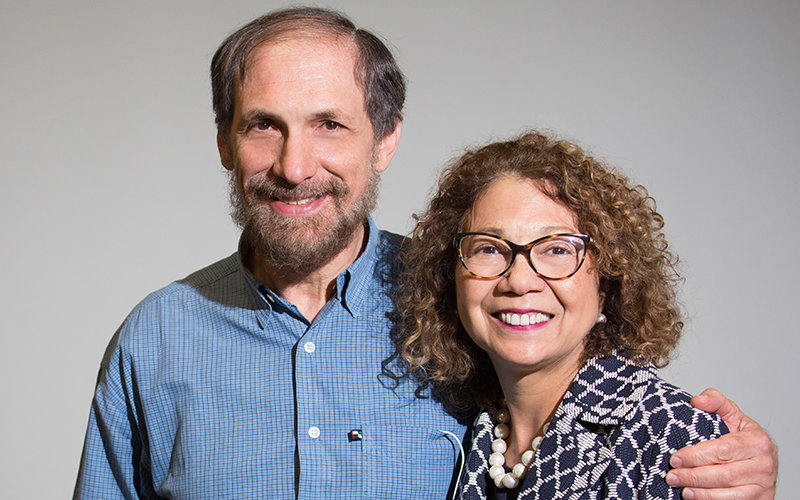 For biological science professor Marcelo E. Tolmasky, examining why bacteria becomes resistant to antibiotics and developing novel treatments to overcome the problem has been the forefront of his research work.
The rise of so-called "nightmare bacteria" or "superbugs" that resist virtually all available antibiotics threatens treatment of bacterial infectious diseases, as well as other medical procedures from general surgery to organ transplants and chemotherapy.
"With many antibiotics becoming ineffective, our research goal is basic: to understand the problem, how bacteria acquire resistance and what do we do about this," said Tolmasky. "Antibiotic resistance is one of the greatest threats to human health."
For Tolmasky's record of excellence in research, mentorship to students and commitment to the University's educational mission, he is this year's recipient of the L. Donald Shields Excellence in Scholarship and Creativity Award.
President Mildred García announced his selection at Thursday's (May 12) Academic Senate meeting, where his colleagues gave him a round of applause. 
García noted that Tolmasky "is not only transforming lives — he's saving lives. This is not an exaggeration. His research, which primarily deals with antibiotic resistance in bacteria that cause life-threatening, infectious disease, is cited, celebrated and recognized around the world."
A surprised Tolmasky, summoned to the meeting by his department chair, thanked his biological science colleagues and others who nominated him. Tolmasky, who joined the campus in 1995, said he is grateful for the opportunity to work on his bold research agenda with one main goal: to perform highly competitive, health-related projects with students as the main drivers.
Tolmasky's colleagues lauded him for building a research program on the important topic of antibiotic resistance and for involving scores of students in his work to train the next generation of scientists.
"Marcelo encourages the development of scientific reasoning and critical thinking by allowing students to design their own experiments, solve their own problems and interpret their own data," noted María Soledad Ramírez, assistant professor of biological science, who worked in Tolmasky's lab as a doctoral student. "He allows his students to be independent scientists who understand the value of collaboration."
Tolmasky has secured more than $4.5 million in federal funding for his research efforts and for the Minority Health and Health Disparities International Research Training Program, which offers  international summer research experiences to underrepresented students.
During his tenure, Tolmasky has established worldwide collaborations and authored 121 peer-reviewed articles, book reviews and book chapters. He has published three books, including his latest, "Plasmids, Biology and Impact in Biotechnology and Discovery." 
Over the years, he has mentored 56 undergraduates and 33 graduate students, who have won research awards, made presentations at national and international conferences and co-authored peer-reviewed journal articles. His students have earned or are pursuing doctorates and landed careers at biotechnology companies.
One such student is Duyen Amy Bui '04 (B.S. in biological science), who earned her doctorate from Harvard University last year. The first American-born daughter of Vietnamese refugees, Bui credits Tolmasky for setting her on a path to achieve academic success and a career in science.
"He spent countless hours fostering me to become an independent, critical thinker. He pushed me to go outside my comfort zone. Dr. Tolmasky is my role model because of his ferocious passion for science and truth, and his great dedication to mentorship."
Tolmasky has received numerous awards over his career, including the 2010 Outstanding Professor Award, the highest faculty honor conferred by the University. He also received the Distinguished Faculty Research Award last year, which honors achievement in faculty research.
The researcher also is director of the University's Center for Applied Biotechnology Studies, a member of the American Society of Microbiology, an academic visitor at the University of Oxford, corresponding investigator at Fundación Instituto Leloir in Argentina, and academic affiliate at the Center for Microbial Sciences at San Diego State University. Tolmasky earned a master's degree and doctorate in chemistry from the University of Buenos Aires in Argentina.
The Shields Award was created in 2012 and named in honor Cal State Fullerton's second president, who served from 1970-80. The award is presented to University faculty members in recognition of "outstanding scholarship and/or creative work that is demonstrated through a variety of activities."