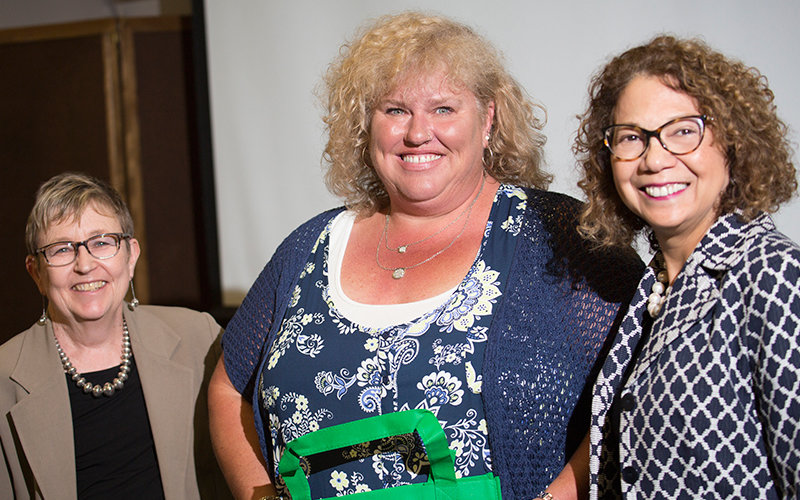 Megan Tommerup came to Cal State Fullerton's Academic Senate meeting May 12 expecting to give a presentation — then wondered why she was getting hugs from her department chair and peers.
The confusion quickly cleared when the lecturer in biological science was named the inaugural recipient of the Outstanding Lecturer Award, an honor created last year to publicly acknowledge lecturers "who demonstrate excellence in teaching effectiveness and commitment beyond classroom teaching."
In making the announcement, University President Mildred García praised Tommerup, who also serves as science education and credential preparation coordinator, as well as the biology teacher education coordinator in the College of Natural Sciences and Mathematics.
García complimented the "transformative way in which she teaches, advises and puts people on a path toward career success" and pointed to Tommerup's collaborative efforts with the College of Education, helping "the next generation of teachers bring highly effective hands-on learning and project-based collaboration to their classrooms and students."
"Thank you so much to all of you who have supported me," said Tommerup, who later added, "it's so nice to be acknowledged by your department, your college and the University … it makes me feel very special, very happy."
"Megan is an engaging and effective instructor who has contributed to curriculum development and a diversity of service activities throughout her 14 years at CSUF," wrote Sean Walker, chair and professor of biological science, and Katherine Dickson, professor of biological science and former department chair, in their nomination of Tommerup.
Walker especially stressed her role in department efforts to prepare K-12 teachers and as course coordinator for courses offered for pre-service elementary school teachers. "The activities she has developed build biology subject matter competence and expose students to the appropriate state educational standards, while modeling effective teaching practices so that the prospective teachers can develop ways to present the material effectively when they teach."
Mark W. Ellis, professor of secondary education, agreed, noting collaborations Tommerup has been involved in with faculty members across campus. "Her enthusiasm is contagious and reflects both rich subject-matter knowledge and extensive experiences as a reflective practitioner who is always refining her craft."
The educator also has been involved in development of similar teacher prep courses at local community colleges and led or co-led on a number of grant programs that further teacher preparation on campus and other educational institutions.
Tommerup "has demonstrated a deep dedication to the implementation of excellence in teaching effectiveness beyond the classroom through her collaboration with Santa Ana Unified School District," noted Marjorie Cochran, district grant writer. "She has been instrumental," Cochran added, "in efforts to enhance the knowledge and expertise of Santa Ana's elementary school teachers in natural science core content subject matter. "
"She gave me the boost of confidence to continue to pursue dental school," explained Abigail Aviles, a senior biological science major. "I can't undeniably state that Dr. Tommerup's role in my pre-dental and dental school application journey was absolutely vital."
She "embedded in me a passion for teaching the sciences and constantly striving to be a better educator," said Emily Salveson, who graduated in January magna cum laude in child and adolescent development with a minor in natural sciences.
Tommerup describes her teaching philosophy as "interactive — to be accessible and to be relevant … I see myself as a facilitator, helping students take responsibility for their own learning. I encourage questions and discussion. I want their feedback. … They learn concepts from me, but I learn how to be a more effective teacher from them."
The honoree joined Cal State Fullerton in 2001 after completing her doctorate in botany at Claremont Graduate University. She also holds a bachelor of science degree in biology from Cal Poly Pomona.