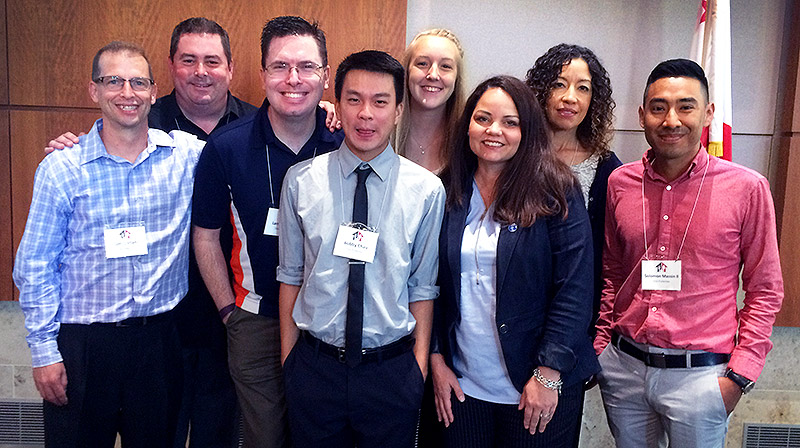 The Cal State University Chancellor's Office presented initial findings last year that 8 to 12 percent of the CSU system's 460,000 students live in unstable housing conditions, and 21 to 24 percent lack regular access to food.
In response to the study, Cal State Fullerton has assembled a 27-member task force to examine the issues on campus. Co-chaired by Dave Edwards, Associated Students Inc. executive director, and Kristi Kanel, professor of human services, the task force consists of students, staff and faculty members from Student Affairs, Associated Students, Auxiliary Services Corp., the College of Health and Human Development, and other campus departments.
"The chancellor challenged each campus to develop ways to provide services to students in the Cal State system who experience homelessness or food insecurity," said Edwards. "The task force is an effort to coordinate individual efforts by clubs, colleges and other organizations on campus."
Eight members of the task force attended the CSU's Food and Housing Security Conference June 20-21 in Long Beach to learn about best practices, related research and plans for a future study to increase understanding of the complex issues.
"The conference really motivated me to learn more about the challenges of students experiencing housing and food insecurities," said Kayleigh Bates, ASI Board of Directors chair. "I realize the important role CSUF can play in ensuring these students are given the opportunity to succeed."
Still in its early stages, the CSUF task force aims to conduct its own needs assessment this fall and develop a targeted plan for the University. The task force is looking into initial ideas, such as a food pantry, temporary housing assistance, an emergency fund and an app that allows students to find free or leftover food on campus.
"We want to build a really strong, sustainable program for our students that has funding, facilities and campuswide support behind it," said Edwards. "I'm confident we'll be able to do that here."