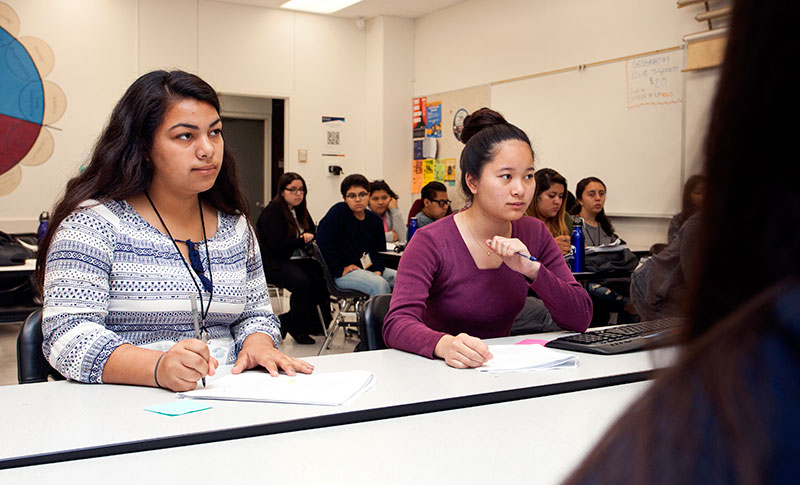 About 150 high school seniors from Anaheim attended classes on campus this month to experience university life and develop strong academic habits as part of the college-readiness program GEAR UP.
The courses in women's studies and Chicana and Chicano studies sparked discussions about whether Beyonce is a feminist and how Colonial culture and race defined a caste system. Students called the topics "mind-blowing" challenges to their own personal views.
"The course isn't watered down, and I feel like I'm getting a good class experience," said James Cho, a Western High School senior.  
Students said the discussions forced them to become more aware of racial division on their high school campuses, in their cities and across the nation. The talks exposed hopes that a diverse and "open-minded" university campus, such as Cal State Fullerton, could elevate their education experience.
"I see that I have certain views, myself, and I want to challenge that," said Ruthie Mendez, a Western High School senior.
Nearly 1,500 students from Savanna, Magnolia and Western High Schools in Anaheim participate in the program throughout the year. Many started working with GEAR UP, or Gaining Early Awareness and Readiness for Undergraduate Program, in seventh grade and continued in the grant-funded program in high school.
In the two-week summer program, students met prior to and after lectures, then gathered for lunch and afternoon discussions about college life, clubs and sports, counseling and their own readiness. On Fridays, they toured nearby colleges.
They've studied college-level material in science, geology, leadership and sociology, to acquire tools needed to conquer general education coursework they'll need to consider as college freshmen, said Janet Perez-Molina, academic coordinator for the GEAR UP program.
"It's making them critically think about who they are, and to be able to ask themselves those questions and be OK with their own answers," said Perez-Molina.
Alexandro Gradilla, associate professor of Chicana and Chicano studies, said the program pairs CSUF faculty members with high school teachers to illuminate the path to college and teach the students the importance of classroom etiquette, note taking, group collaboration and office hours — many skills a first-generation college student must develop to succeed.
"For many of these students, I am the first college professor they have ever seen or met, and sharing their ethnic and cultural background really makes the experience mutually electrifying," Gradilla said. "It is a teaching high that I can only describe as transformative for myself and for the students."