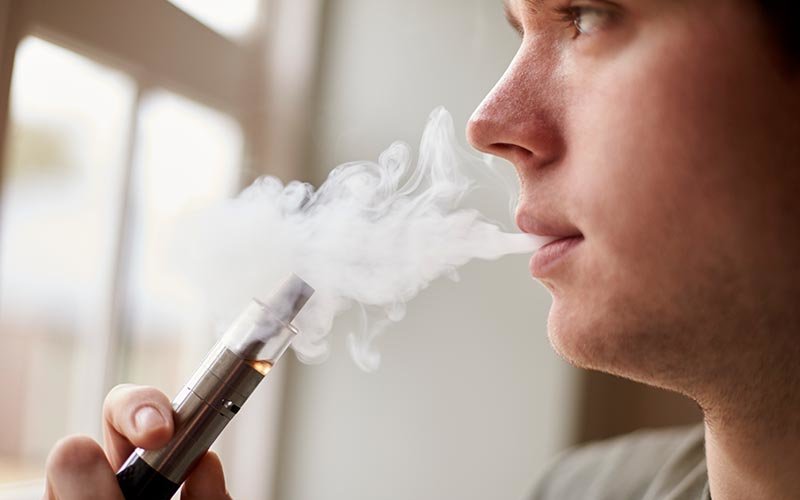 California recently became the second state after Hawaii to increase the minimum age to purchase tobacco products, including electronic cigarettes, from 18 to 21. The law went into effect June 9.
"Historically, California has been a leader in tobacco control," said Joshua Yang, Cal State Fullerton associate professor of health science. "The package of bills that was passed this year really shows that California is asserting itself as a leader in this field again."
Tobacco use continues to be the leading cause of preventable death in the United States, with the Centers for Disease Control and Prevention reporting an estimated 36,000 related deaths in California each year. Sixty-three percent of smokers in California initiate the habit by the age of 18, and 97 percent begin by age 26, according to the California Department of Public Health.
"The three-year increase is an attempt to get young people to not ever start smoking," said Yang. "For middle school and high school students who smoke, one of the concerns is that they may be getting tobacco products from friends who are 18 or 19 years old. Increasing the purchase age to 21 reduces the likelihood that they will have peers who can purchase tobacco for them."
The new legislation, which also restricts the use of e-cigarettes in public places, is a step toward reducing overall secondhand smoke. In a similar move, Cal State Fullerton became the first smoke-free campus in the California State University system in August 2013.
"There was a time in this country when smoking was socially acceptable, and the public health community has worked a lot over the past decades to reverse people's perception of tobacco," said Yang. "We've come to a point where most people now recognize that smoking and using tobacco are not good for you."
Extending tobacco control measures to e-cigarettes, a relatively new product that vaporizes flavored nicotine and other chemicals, has sparked some debate. Marketed as a safer alternative to traditional smoking, e-cigarettes are gaining popularity among youth and adults.
"The idea that e-cigarettes are just harmless vapor is actually not true," said Yang. "Even though there's a lot of variability in what e-cigarettes are made of, we know that there are unhealthy particles that are being inhaled and exhaled."
While the long-term effects of using e-cigarettes are still unclear, data from the National Youth Tobacco Survey indicates that youth who try e-cigarettes are twice as likely to try traditional cigarettes as those who never use e-cigarettes.
"Traditionally, the public health approach is to take precautionary measures in terms of exposing people to things that have a reasonable chance of being unhealthy for them," said Yang. "There is already evidence of harm associated with e-cigarettes, so greater control and regulation of them is warranted."
Yang recently received an award from the American Lung Association in California to evaluate efforts to urge smoking restrictions in multiunit housing complexes in Buena Park, as well as in outdoor dining areas in Laguna Niguel and Tustin.
By engaging in advocacy work outside of the classroom, Yang is able to offer hands-on learning experiences for health science students at Cal State Fullerton. Students in his classes have participated in community organizing, data collection, evaluation tools and research methods.
"As much as we feel like we know about tobacco, there's still a lot to be done — not only in the United States, but worldwide," said Yang. "For me, this continues to be an area that I will work on into the foreseeable future."