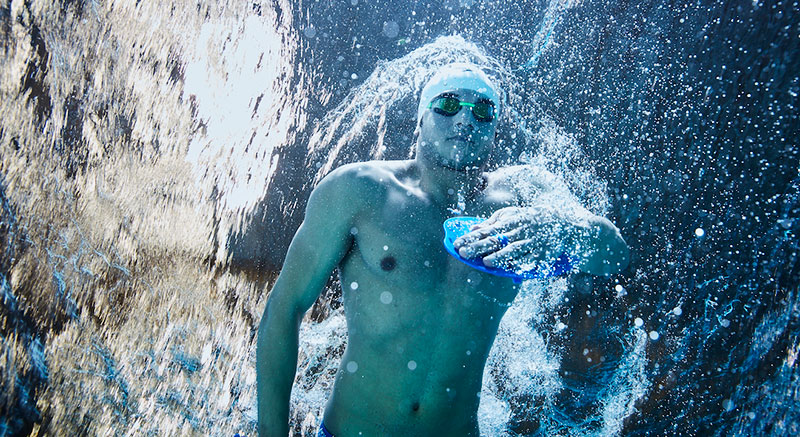 With an estimated 21 million refugees worldwide, displaced due to war and political unrest, the International Olympic Committee (IOC) announced in June that the first-ever team of refugee athletes will compete at the 2016 Summer Olympics in Rio de Janeiro.
But this isn't the first time a refugee team has tried to enter the Olympic games.
Toby Rider, Cal State Fullerton assistant professor of kinesiology, has extensively researched human rights issues in Olympic history. Following World War II, a refugee team called the Union of Free Eastern European Sportsmen attempted to compete in the 1952 Olympics.
"The Cold War era was another period in time with massive numbers of refugees, comparable to today," said Rider. "Millions of people were displaced by the Nazi efforts to control Europe, and after that, millions fled from the Communist regimes."
Rider theorizes that the rejection of the 1952 refugee team, secretly funded by the CIA as a propaganda coup, was due to the IOC's strict interpretation of its system of national representation.
"The IOC rules are quite simply that you cannot compete at the Olympics as an individual; you must represent a country that has a recognized national Olympic committee," he said. "That was always the problem with refugee athletes: They had no one to compete for. They'd fled their countries, so they were effectively stateless."
Allowing a group of refugee athletes to compete in the 2016 Olympics demonstrates a new flexibility in decision-making for the IOC, says Rider. The 10 refugee athletes hail from the Democratic Republic of Congo, Ethiopia, South Sudan and Syria, and will compete in track and field, swimming and judo.
"The global refugee crisis has become such a compelling issue, particularly in the last two years," said Rider. "I think it's a significant decision for the IOC. They want this refugee Olympic team to draw attention to an issue that can sometimes get lost in the shuffle of international affairs. It's easy in the current climate for stories to disappear, when obviously they shouldn't."
Rider teaches several sports history classes at Cal State Fullerton and is co-director of the University's Center for Sociocultural Sport and Olympic Research. The center is one of only three such Olympic research centers in the United States.
"The Olympics are an important subject for us to study in an academic environment because they are the biggest cultural event on planet Earth. There's nothing else that brings as much interest or as many spectators," he said. "The Olympics also are tied to so many issues of politics and human rights. It's an important topic for students on our campus and everywhere."
The Journal of Olympic History will publish a section of Rider's research on refugees and the Olympics in July. "My question going forward is: Will they continue to have a refugee team?" he said. "I hope so. It would be a right step for promoting equality and inclusivity at the Olympics."
That is, as long as there is a need.
"I don't see a future where there'd be no refugees," said Rider. "That would be nice, wouldn't it?"
2016 Olympics is a series of stories highlighting Cal State Fullerton faculty, staff and athletes connected with the Summer Olympics in Rio de Janeiro. Follow the games Aug. 5-21, and join us on social media with the #CSUFOlympics.

Related stories:
CSUF Professor Discusses LA's Bid for 2024 GamesCSUF Alumna Makes Waves as Athletic Trainer
CSUF Scholar Calls for More Gender Equity
CSUF Professor Coaches USA Men's Volleyball
CSUF Researcher Examines Crackdown on Doping
CSUF Professor Preps Athletes for Mental Game