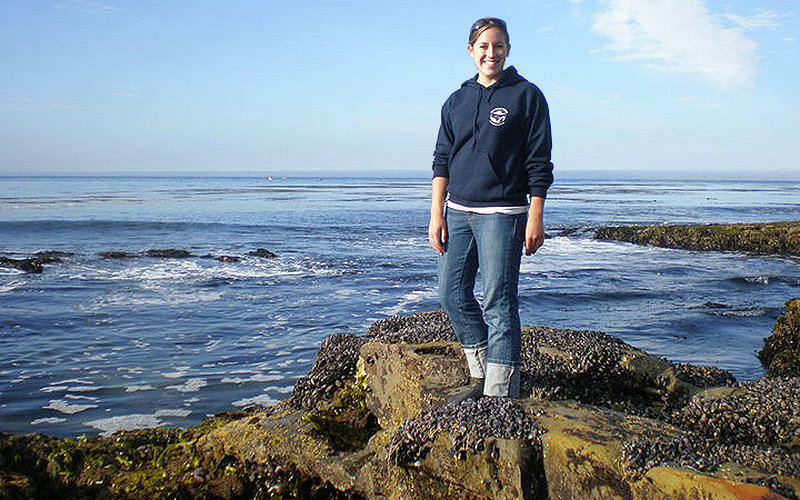 As a graduate student, Cal State Fullerton biology alumna Sara Briley spent two years and many days and hours swimming in Alamitos Bay in Long Beach counting eelgrass — found in shallow coastal areas — for her thesis research.
She collected samples and took them back to the lab to study the impacts Olympia oyster bed restoration may have on nearby eelgrass beds.
Since 2010, her faculty mentor, Danielle Zacherl, professor of biological science, and her students have been restoring Olympia oyster beds in local coastal waters. The oyster, native to the West Coast, has experienced significant population declines due to over-harvesting and habitat destruction. When Briley joined Zacherl's lab in fall 2011, she took on the eelgrass research project to explore the possible impacts and relationship of the oyster bed in Alamitos Bay on eelgrass density and its growth.
In her graduate thesis, Briley reported that overall, there was no conspicuous impact on the adjacent eelgrass bed — neither positive nor negative.
"The findings support the potential coexistence of a constructed Olympia oyster bed and adjacent eelgrass, which is relevant to the design of future restoration efforts for both species," she said.
For her research work, Briley was awarded the 2016 Giles T. Brown Outstanding Thesis Award, which recognizes distinguished scholarly achievement at the master's level.  
"It's such a huge honor and speaks to the guidance and support I've gotten along the way," said Briley, who earned her master's degree in biology in 2015. "My thesis project ties in with my passion for inspiring ocean conservation through community restoration. It's been a fulfilling project and something that can have a lasting impact on coastal habitats."
Zacherl, who nominated Briley for the award, called her a "positive and dynamic addition to my lab."
"Sara is a serious scholar who produced a timely and well-written thesis," said Zacherl, who added that they are preparing her thesis for publication.
Eelgrass beds are important for the marine ecosystem to promote oxygen production, food and serve as nursery grounds for many species of fish and invertebrates, said Briley. Like the Olympia oyster, eelgrass beds have been impacted by coastal development and dredging, she added.
As a result of her work, Briley forged collaborations with area eelgrass researchers, including Orange County Coastkeeper, a nonprofit organization whose mission is to protect and promote water resources, which hired her in 2014 as its restoration coordinator. In her role, she coordinates the restoration of oyster, eelgrass, abalone and other nearshore habitats with the help of community volunteers.
Additionally, since her eelgrass research left many questions unanswered, Briley leveraged her thesis data to apply for funding from the California State Coastal Conservancy, with National Oceanic and Atmospheric Administration support. She received a $250,000 grant for her "Living Shorelines" project to explore the potential use of adjacent oyster and eelgrass beds as more natural alternatives to protect shorelines — instead of man-made structures such as a sea wall.
Briley will lead an eelgrass restoration project in upper Newport Bay starting this month, and has hired Zacherl, who with her students will focus on oyster monitoring.
"I look forward to continuing to working with Dr. Zacherl. As a student, she allowed me the flexibility to develop the eelgrass project independently while giving me the feedback I needed to succeed. I definitely would not have gotten this far without her mentorship."