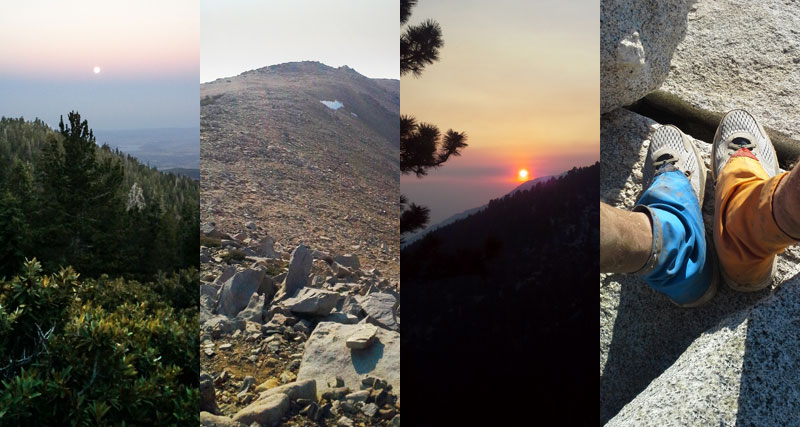 When Scott Hewitt set out to ascend the three highest peaks in Southern California June 20 to raise funds for Cal State Fullerton's Pollak Library, he didn't expect to encounter a scorching heat wave and two brush fires in the nearby Angeles National Forest.
The interim University librarian completed the 46-mile "3 Peaks Run" in 26.5 hours, with 21 hours of running and fast hiking. His run was slowed by the near 108-degree temperatures and carrying 90-120 ounces of water on his back as he trekked Mount San Jacinto, Mount San Gorgonio and Mount Baldy.
"I continue to be amazed at what the human body can do," said Hewitt. "On the second mountain, I wasn't sure I was going to make it to the top. It was so hot, and the energy was completely drained out of me. I just focused on making it to the next landmark and kept doing that until I made it to the top."
Full of obstacles spurred by the heat and fires, Hewitt's journey began with sleep deprivation and went on to include back spasms, an asthma attack, an inflamed arthritic toe and chronic Achilles tendon injury. A broken headlamp prompted him to complete a perilous part of the trail, descending a steep canyon, in the dark.
Still, the 53-year-old avid runner calls the experience "a great adventure" and hopes it will inspire students to stay the course through their own hurdles.
"Sometimes students will give up when they face challenges," said Hewitt, who taught chemistry prior to joining the Pollak Library. "My take-home message for students is that it's all about persevering to the end."
Hewitt's run has raised $14,166 to date, nearly reaching its $15,000 goal. The fundraiser, which will support the library's Special Collections and student assistants, is open until the end of July.
"Some of my best ideas come while I'm running, including the idea to raise money for the library by doing an outrageous run," said Hewitt.
Would he do it again?
Smiling, he said, "Ask me again in a week."