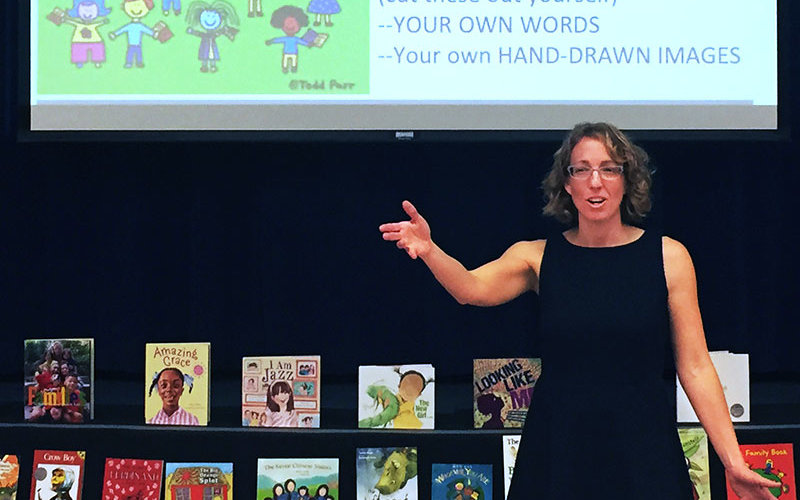 Educator Sharon V. Chappell is leading a Cal State Fullerton "Welcoming Schools" project for teacher credential students and local teachers to create safer elementary school climates by addressing bias-based bullying, gender inclusion and family diversity.
"Welcoming Schools," a project of the Human Rights Campaign, focuses on implementing strategies for inclusive K-5 schools, said Chappell, associate professor of elementary and bilingual education, trained by HRC as a "Welcoming Schools" facilitator.
With grant funding from the Handel Sunrise Foundation, Chappell offered a spring "Introduction to Wellness, Inclusion and Welcoming Schools" institute for credential students. This summer, she will facilitate a July 25-27 institute, in partnership with LGBT Center OC, for interested Orange County teachers. The institute is free and teachers may receive a stipend for attending.
What are some of the issues students face?
At school, children experience on-going discrimination about their bodies, languages spoken, gender, racial and ethnic identity, sexual orientation and family diversity. Moreover, LGBTQ youth are more likely to be placed at risk due to bullying, leading to self-harm and disengagement from school. However, research suggests establishing safe, 'welcoming schools' for LGBTQ youth and families can prevent this harm.
Why is training credential students important?
Teacher candidates are at the beginning of their development as school professionals. They're developing dispositions through coursework, fieldwork and professional experiences like the Welcoming Schools project, which promotes diversity in the classroom and supports learning in a caring, respectful and non-discriminatory manner. The Welcoming Schools project relates directly to what the College of Education teaches and expects of its teacher candidates — in that it helps students demonstrate a commitment to fairness and a belief that all children can learn when safe, inclusive and welcoming schools are developed.
What are the benefits for teacher candidates, as well as veteran teachers?
Learning about building safe, welcoming schools helps teacher candidates feel empowered to act. They build knowledge about LGBTQ youth, families and topics in school, including anti-discrimination laws and policies. They evaluate curriculum and identify goals for themselves as educators, such as how to create an accepting environment that celebrates differences. Project participants also learn about making classroom practices more inclusive by using gender-neutral language and examining gendered assumptions about children and their interests. Additionally, they are exposed to ways to make curriculum more inclusive by including more literature that represents gender and family diversity.
What are some key lessons for teacher candidates?
First, building safe, welcoming schools requires a comprehensive approach that includes support from educational professionals across the district and teacher education program — from the school board, administration, counselors, school support staff, teachers and student teachers to university faculty.
Secondly, we must create inclusive schools through policies, practices and curricula that prevent bias-based bullying and gender stereotyping, support transgender and gender-expansive students and embrace family diversity. Lastly, future and current teachers must support the pluralism and intersection of students' identities, as well as take action to help others to address bias and injustice.
What is your hope for Welcoming Schools?
My hope is that by addressing discrimination, building inclusive environments and enhancing social-emotional relationships — among children, families and school staff — will support overall wellness, academic achievement and children's growth and development.
Registration for the summer institute is available online. For more information, contact Chappell or call 657-278-8493.