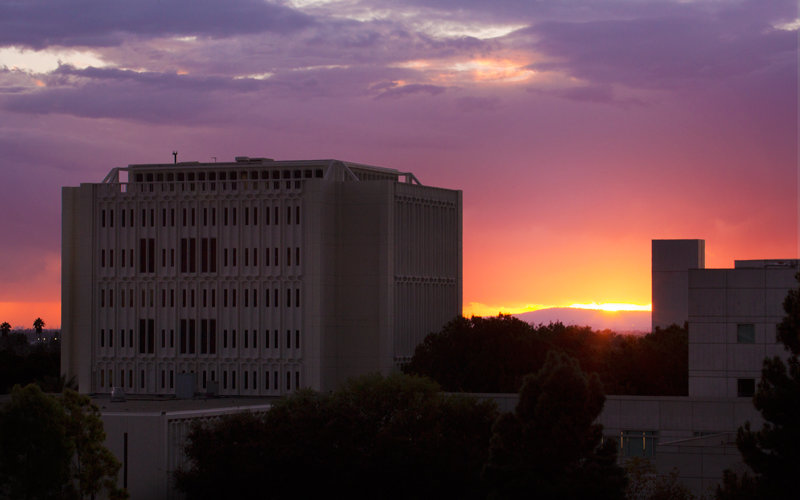 Cal State Fullerton faculty and staff members have been awarded more than $2 million in external grants during the fourth quarter of the 2105-16 academic year. Projects involve student research and preparation programs, supporting small business development and faculty research and development.
Laura Gil-Trejo, director of the Social Science Research Center: $424,443 from the Sonoma County Junior College District and Santa Rosa Junior College for "2016 Survey of Former Community College Students."
Megan Tommerup, lecturer in biological science, science education and credential preparation coordinator, and Kim Case, lecturer in elementary and bilingual education: $246,132 Santa Ana Unified School District award for the California Mathematics and Science Partnership Professional Development Project.
Ding-Jo Currie, professor of educational leadership: $207,074 from the North Orange County Community College District for "Baccalaureate Degree Pilot Program Implementation Support Grant."
Kristijan Kolozvari, assistant professor of civil and environmental engineering: $159,995 National Science Foundation award for "RUI/Collaborative Research: Framework for Earthquake-Resilient Design Tall Buildings."
Raman Unnikrishnan, former dean of the College of Engineering and Computer Science and professor of electrical engineering: $150,000 from GE Digital LLC for the "GE CSU Innovation Design Challenge." Shawn Wang is faculty coordinator of the program. 
Michael Daniel , director of the CSUF Small Business Development Center: $131,486.80 U.S. Small Business Administration award for the "2015 OC/IE SBDC Carry Forward" project. Related article: Supporting Entrepreneurs 
Charles Funkhouser of Mathematics: $98,794 in funding from the National Science Foundation for "Native American-Based Math Materials for Integration Into Undergraduate Courses."
Tami "Sunnie" Foy, associate director, Office of Research Development: $91,800 award from the National Institutes of Health and Eunice Kennedy Shriver National Institute of Child Health and Human Development for "CSUF Research Gateway Project."
Joel Lanning, assistant professor of civil and environmental engineering: $76,700 California Department of Transportation award for "Comprehensive Set of Testing Protocols for Buckling-Restrained Braces Applied to Bridges."
Diane Clemens-Knott, professor of geological sciences: $70,000 American Chemical Society award for "Testing Models for the Formation of California's Great Valley Basin."
Jennifer Piazza, assistant professor of health science: $69,550 in year two funds from the National Institutes of Health/National Institute on Aging for "Daily Stressor Reactivity and Profiles of Physical Health Across Adulthood."
Danielle Zacherl, professor of biological science: $55,500 award from the Southwest Wetlands Interpretive Association for "San Diego Bay Native Pre-Construction Oyster Restoration."
Claire Cavallaro, dean of the College of Education, and Mark Ellis, professor of secondary education: $50,000 Chevron U.S.A. award through the CSU Board of Trustees for "Pathways to STEM Teacher Excellence II: Addressing the Next Generation Science Standards" project. Related article: CSU Receives $1M From Chevron for STEM Teacher Education
Shana Charles, assistant professor of health science: $47,428 subcontract from UCLA for "California Health Interview Survey 2013-14 Research Contract."
Geoffrey Lovelace, assistant professor of physics: National Science Foundation award of $45,929 for "RUI: Computational Gravitational-Wave Research for the Era of First Observations."
Alexandra Orchard and Nicholas Salzameda, assistant professors of chemistry and biochemistry: $25,000 Allergan Foundation award for the "CSUF Drug Discovery Research and Education Program."
Teresa Crawford, professor of elementary and bilingual education: $17,233 from the Placentia-Yorba Linda Unified School District for "Summer English Language Development – Art Camp Project."
Scott Parr, assistant professor of civil and environmental engineering: $15,288 award from the Board of Supervisors of Louisiana State University and A&M College for "Quantifying Resiliency of Maritime Transportation Systems."
Matt Englar-Carlson, professor of counseling: California Endowment award of $15,000 for "Assessing Effective Health Interventions for Young Men of Color."
Peter Fashing and Nga Nguyen, associated professors of anthropology: $12,500 from the Zoological Society of San Diego for the "Guassa Gelada Research Project 2016." Fashing and Nguyen are co-directors of the Guassa Gelada Research Project, a long-term study of a single band of gelada monkeys who live in the highlands of Ethiopia.
Anil Puri, dean of Mihaylo College of Business and Economics: $10,000 OCTA award for "Taxable Sales/Economic Forecast for Orange County (2016-17)."
Nina Robson, assistant professor of mechanical engineering: $8,409.60 continuation of a Texas A&M Engineering Experiment Station award for "Exoskeleton Based Stroke Rehabilitation With Augmented Reality."
Laura Lohman, associate professor of music and director of the Faculty Development Center: $5,000 from the National Education Association for "Summer Faculty Development Center Institute: Supporting the Academic Achievement of First-Generation College Students at CSUF."