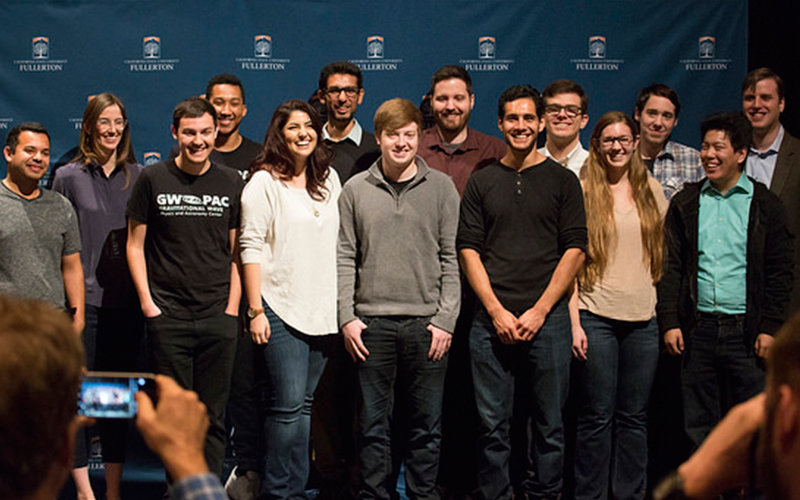 A $937,368 National Science Foundation grant awarded to Cal State Fullerton will fund a new project to recruit and expand the number of underrepresented students majoring in gravitational-wave science and provide a pathway to enter the doctoral program in gravitational-wave astrophysics at Syracuse University.
"Catching a New Wave: The CSUF-Syracuse Partnership for Inclusion of Underrepresented Groups in Gravitational-Wave Astronomy" will be offered through CSUF's Gravitational-Wave Physics and Astronomy Center (GWPAC). The project focuses on Hispanic students, traditionally underrepresented in astronomy and physics, said Jocelyn Read, assistant professor of physics and project director.
Colleagues Joshua Smith, associate professor of physics, and Geoffrey Lovelace, assistant professor of physics, are helping to guide the program, along with Syracuse physicists Stefan Ballmer and Duncan Brown.
Beginning this fall, the project will fund three-year fellowships, including financial and academic support, for CSUF students transferring to doctoral programs at the New York-based university, which will extend the impact CSUF students can make in gravitational-wave astrophysics, Read noted.
"The project provides students with a clear path to a Ph.D., a close-knit group of peers working together and mentorship by professors at both institutions," she said. "In particular, we hope this project will encourage more of our underrepresented students to consider academic STEM careers. Our research community will be strengthened by the new perspectives such students can bring."
Over the five-year grant period, funding also will support three undergraduate researchers and a graduate student researcher each year, as well as three Citrus College summer students, who will work on gravitational-wave research at GWPAC.  
The grant will further develop CSUF's academic program in gravitational-wave astronomy by supporting summer guest lectures from Syracuse University faculty members and fostering academic mentorship between the partner institutions.
"This support will continue the development of a vibrant research community in GWPAC — building on our track record of strong research contributions from student members," said Smith, Dan Black Director of Gravitational-Wave Physics and Astronomy.
CSUF and Syracuse, which has a well established gravitational-wave astronomy and astrophysics group, have a six-year history of building a pipeline for advanced studies — and the grant project will strengthen that partnership, Smith added. Four CSUF physics graduates are currently enrolled at Syracuse pursuing doctorates.
"As a result of this grant funding, we hope to recruit and help develop the next generation of leaders in gravitational-wave science," Smith said.